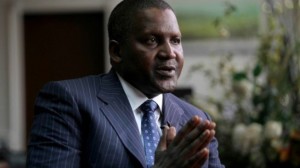 Dangote Industries Limited has launched a passionate appeal to members of the public to assist in monitoring both the recklessness and the illegal haulage of contraband goods by some of his truck drivers.
The company has also set up hotlines for the public to call in and report such truck drivers, with a promise to appropriately compensate calls that lead to arrest of errant drivers.
Noting that the trucks belonging to Dangote Cement are only allowed to carry cement, high grade gypsum and coal, those belonging to Dangote Sugar (NASCON) are authorized to carry only salt and Dan Q seasoning.
A press release from the company also revealed that trucks belonging to Agro Sacks, the bags producing arm of Dangote Group, can only carry bags while the ones belonging to Dangote Flour Mills can only transport wheat, flour and danvita.
"The Management of Dangote Industries Limited hereby alerts the public to report any suspected Dangote truck driver involved in illegal haulage. Please call Dangote Industries Management hotline on all information regarding illegal haulage activities on 08070188000, 01-2123567, 08170023846, 08152093133 and or email us at CustomerCare@Dangote.com," the company said. "Dangote Industries Limited also wishes to warn those that illegally transport materials on Dangote trucks that such unauthorized goods, when found, shall be confiscated and such owners prosecuted to the full extent of the law".
Several Dangote trucks have, in recent times, been involved in fatal accidents while others have been arrested by Customs officials for transporting contraband goods.