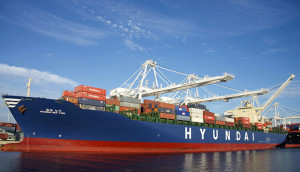 South Korean container carrier Hyundai Merchant Marine (HMM) has unveiled its intentions to secure 5 percent of the global liner market by 2021, more than double its current 2.2 percent capacity share, according to Alphaliner.
However, although the company unveiled its ambitious target on December 12, "it failed to back up these growth plans with any coherent strategies."
In order to achieve the set goal, HMM would need to expand vessel capacity from its currently operated 455,000 TEU, to more than 1.1 million TEU over the next four years, representing a rise of over 140 percent.
In order to achieve its targeted market share, HMM would need to add over 650,000 TEU of additional capacity by 2021.
"HMM's plan calls for a focus on the Asia – US route and for the acquisition of further container terminals, even though neither of these efforts has any potential to help the carrier reach its self-set market growth target," Alphaliner said.
This is especially true in the light of the new strategic cooperation agreement between the 2M and HMM, under the terms of which the Korean carrier would cease vessel operations on the Far East – Europe and Far East – US East Coast routes. Instead, HMM said that it will not "be engaged in overly-active fleet expansion," which renders its capacity target even more far-fetched.
Alphaliner added that the additional capacity required for HMM to reach a 5% market share is equivalent to acquiring the entire operated fleet of Hanjin Shipping prior to the carrier's collapse in late August.
Copyright Ships & Ports Ltd. Permission to use quotations from this article is granted subject to appropriate credit given to www.shipsandports.com.ng as the source.