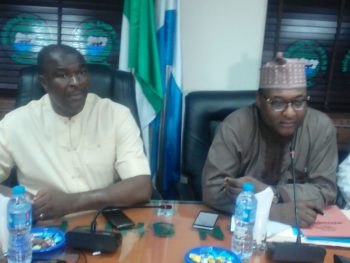 The House of Representative Committee on Ports, Harbours and Waterways has urged the Nigerian Shippers' Council (NSC) to intensify efforts towards generation of more revenue for the government.
Chairman of the Committee, Pat Asadu who stated this during an oversight visit to the agency yesterday in Lagos said given the present economic recession in the country, there is need for the council to look inwards to generate more revenue.
He said while the NSC has not fared badly in its 2016 budget performance, there is need for the council to be innovative to generate more revenue in other areas such as rents, conferences and seminars.
"In general, they have done well but there are still areas to look at. Almost all agencies in government have revenue that is less than 60 percent. That is what we call recession. That is why we say we are having negative growth and instead of growing upwards, we are growing downwards.
"What we are saying is that as they do conferences, they should try to get money out of it. If they are renting out properties loosely, they should make sure they tighten up their grip. Nigerians need more money and (Nigerian) Shippers Council is a prime player in the industry so they must find ways and means of earning more money," he said.
Asadu said his committee's visit to NSC was to appraise its 2016 budget performance.
"We have powers to appropriate funds for government agencies but further we need to follow how that money is used to make sure that what we approved is applied as approved.
"As a committee, we had adopted a model that at regular intervals we have to interact with agencies to find out how monies appropriated for them are being spent.
"This becomes more imperative when we are approaching a budget because we always feel it is wrong to give more money without knowing how the previous one was expended. Before we give in any budget for 2017, we must see how 2016 performed," he said
Earlier, Executive Secretary of NSC, Hassan Bello expressed his appreciation to the committee for its legislative role and oversight function saying that the committee has helped the council in no small measure to find its feet in the industry.
"We know the expectation of this committee and we are trying as much as we can to meet up to that expectation. They have helped the council to find its feet in no small measure," he said.