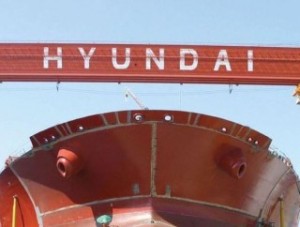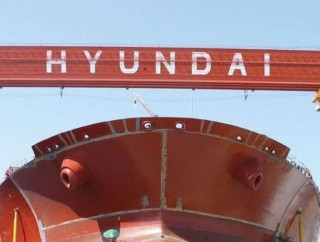 Shareholders of Hyundai Heavy Industries Co., South Korea's major shipbuilder, gave the green light on Monday to the company's overhaul scheme to split the troubled shipbuilder in an effort to regain financial health amid strong opposition from the labor union.
The preliminary shareholder meeting, held earlier in the day, passed the proposal to separate the shipyard, once the world's largest, into six independent businesses, the company said.
The approval of the scheme will help the company push ahead with the plan to reorganize the ailing company into four different affiliates: shipbuilding, electronics, construction equipment and robotics. The company already spun off its service and green energy divisions into separate firms late last year.
The shakeup comes as part of a broader effort by the troubled shipyard to salvage itself from high indebtedness. The spinoff is expected to reduce the shipyard's debt ratio to 95 percent from 106 percent at the end of last year, the company said.
Opposing such a plan, unionized workers at Hyundai Heavy staged a strike for the third consecutive workday, which caused the shareholder meeting to be adjourned four times until it finished in less than two hours.
The labor union called on its 14,000 workers to stage an eight hour sit-down starting at 8:00 a.m., continuing the strike following the two previous walkouts on Thursday and Friday of last week.
The strike has been aimed at raising voices against the company's spinoff decision, which the labor union claims comes at the expense of workers' jobs.
Over a thousand workers who hold company shares attended the shareholder meeting in an act of protest, making a scene with the police as they tried to block the voting process.
South Korean shipbuilders, including Hyundai Heavy's rivals Samsung Heavy Industries Co. and Daewoo Shipbuilding & Marine Engineering Co., have been under financial strain due to a delay in the construction of overseas facilities and falling new orders, resulting in massive losses.
The series of strikes over the past week came as the shipbuilder unveiled a plan last year to reorganize its businesses into six separate companies to regain competitiveness and financial health. The decision is part of the shipyard's self-rescue plans to sell noncore assets and cut jobs.
Currently, about 23,000 workers are recruited by Hyundai Heavy, of which some 4,000-5,000, or 20 percent of the workforce, are expected to be relocated due to the spinoff.
The company said the scheme will be dealt with in accordance with the law, warning that it will "strictly hold responsible any unlawful acts to sabotage the shareholder meeting."
Copyright Ships & Ports Ltd. Permission to use quotations from this article is granted subject to appropriate credit given to www.shipsandports.com.ng as the source.