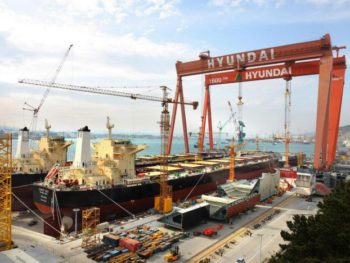 Workers of South Korean shipbuilding company Hyundai Heavy Industries (HHI) plan to go on strike on February 22-27 to block a shareholders' meeting with the firm's restructuring plans on the agenda, IndustriALL Global Union informed.
Korean analysts and unions believe that Chung Mong-Joon, HHI's controlling shareholder and part of the Hyundai chaebol dynasty, is restructuring the company to transfer ownership to his son Chung Ki-seon, a move that would be illegal under Korean law.
HHI revealed plans in November 2016 to split into four parts – Hyundai Robotics, Hyundai Electric & Energy Systems, Hyundai Construction Machinery, and Hyundai Heavy Industries – in an effort to improve its financial status.
The Korean Metal Workers' Union (KMWU), IndustriALL's affiliate, pledged to support HHI workers in their resistance to the company's restructuring efforts. HHI workers voted to join KMWU in December 2016.
Last week, some 4,000 metalworkers rallied in front of the HHI Shipyard in Ulsan, vowing to smash plans to restructure one of the three biggest shipbuilders in the country.
KMWU brought together union officers from across the country for the rally, which coincided with a four-hour work stoppage.
Speaking at the rally, KIM Sang Gu, KMWU President, stated: "The KMWU will stop this restructuring, which is an attempt by Chung Mong-joon and the Park Geun-hye government to shift the responsibility for the shipbuilding industry downturn onto the backs of workers."
"The Hyundai Heavy Industries spin-offs will lay the foundations for the third-generation succession of management by Chung Mong-joon and his family. They aim to monopolize all the wealth built from the hard work of the workers. We cannot approve of a shareholders' meeting that is for the benefit of Chung Mong-joon only. We will stop this," Baek Hyeong-rok, a union leader at HHI, said.
HHI has refused to recognize the KMWU as collective bargaining representatives, even though KMWU is recognized by Hyundai Motors, according to IndustriALL.
Earlier this month, the shipbuilder released financial results for 2016, reporting a net profit of KRW 682.3 billion (USD 596.6 million) compared to a loss of KRW 1.36 trillion (USD 1.18 billion) seen in 2015.
The company's operating profit also marked a turnaround as it stood at KRW 1.64 trillion, against an operating loss of KRW 1.54 trillion. Operating profits rose mainly due to increased volume of ships that HHI won at profitable prices, continued efforts to cut costs and streamline shipbuilding processes and improved oil refining margin and increased sales of Hyundai Oilbank.
Copyright Ships & Ports Ltd. Permission to use quotations from this article is granted subject to appropriate credit given to www.shipsandports.com.ng as the source.