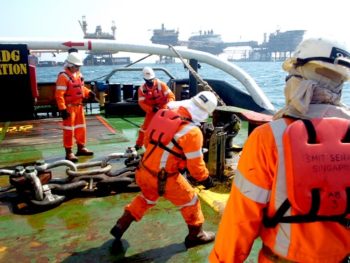 The International Transport Workers' Federation (ITF) has condemned a proposal by a coalition of Ukrainian trade unions to reduce minimum wages of the country's seafarers.
Recently, trade unions from Ukraine established the Ukrainian National Platform of Maritime Trade Unions and developed a new collective bargain agreement (CBA) with a minimum wage of USD 1,085. Unions claim that the wage level is in line with the one set by the International Labour Organization (ILO).
According to the newly formed platform, amid the current economic crisis, many shipowners cannot afford to pay the minimum wage USD 1,800 to seafarers and they hire seafarers from India, China, the Philippines, Indonesia and other countries, paying them lower wages.
The CBA was introduced in an effort to improve "the competitive advantage of Ukrainian seafarers within the international labour market."
However, the ITF said the new group has promised "to undercut agreed and negotiated conditions."
"It is publicly offering shipowners the chance to evade the agreed ITF monthly minimum wage for ABs of USD 1,806 and slashing it by USD 801," the ITF said.
"There is no indication that any shipowner has fallen for this offer yet. They will be aware that a union proposing to reduce negotiated conditions for seafarers is unacceptable and will not be tolerated by the ITF. Similarly, the ITF will consider any shipowner trying to take advantage of this dodgy deal as attempting to attack the hard won and hard earned rights of seafarers – and inviting the consequences," David Heindel, ITF Seafarers' Section Chair, explained.
Oleg Grigoryuk, the First Vice Chairman of the Marine Transport Workers' Trade Union of Ukraine (MTWTU), stressed that trade unions are meant to defend the rights and conditions of workers, not to remove them. The MTWTU is said to be the only trade union in Ukraine affiliated to the ITF.
"This offer is a tawdry attempt to drum up business at the expense of the very workers these so-called unions are meant to represent. It's notable that the leader of this appears to be the UMTUF (Ukrainian Marine Trade Unions' Federation), a union that the ITF had to suspend from membership, and whose expulsion has now become increasingly likely," Paddy Crumlin, ITF President, said.
Copyright Ships & Ports Ltd. Permission to use quotations from this article is granted subject to appropriate credit given to www.shipsandports.com.ng as the source.