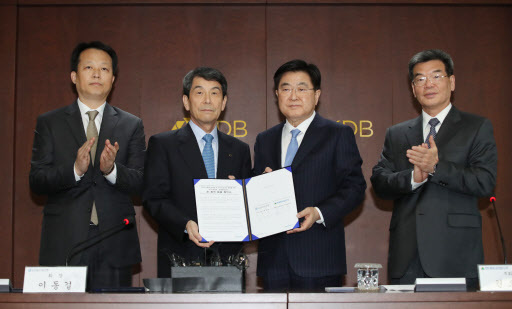 South Korea's shipbuilding group Hyundai Heavy Industries (HHI) has signed a formal deal to proceed with the acquisition of its smaller rival, Daewoo Shipbuilding & Marine Engineering (DSME).
The deal was signed on Friday with Korean state lender Korea Development Bank (KDB) and follows a conditional agreement the two parties reached in January.
The parties agreed that KDB, which holds a 55.7 percent stake in DSME with an estimated worth of KRW2.16 trillion (USD1.94 billion) will sell its stake.
KDB will transfer its DSME common stock to HHI and buy KRW1.5 trillion worth of HHI stocks, Hyundai Heavy confirmed today in a stock exhange filing.
Under the agreement, KDB will also consider providing KRW1 trillion in financial help to DSME, while HHI will establish a holding company that will control the group's shipyards, including DSME.
The transaction will see HHI owning a 26 percent stake in DSME and KDB 18 percent.
HHI said the main prerequisite for the realization of the investment is the receipt of all government licenses and permits as well as the approval of business combination by domestic and foreign regulatory authorities.
The takeover has raised fears of potential layoffs at both HHI and DSME yards. In February, more than 90 percent of workers at DSME vowed to go on strike in protest of the deal.