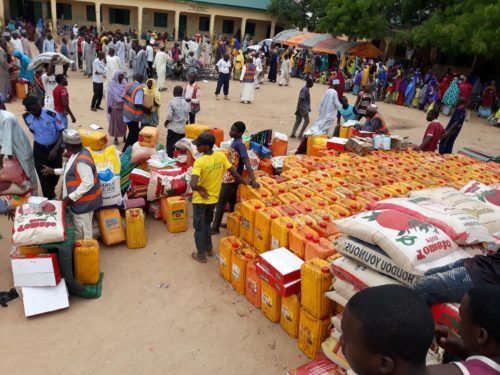 In 2018, the United Nations classified North East Nigeria as an area at high risk of famine; the major culprit being the violent conflict waged in the region over the last few years. As a result, Nigeria was rated with the highest prevalence of stunted under-five children in sub-Saharan Africa. That is about 17. 2 million children. Findings by the 2016/2017 Multiple Indicator Cluster survey for Nigeria revealed that 59 percent of stunted under-five children in Nigeria were in the North West, followed by the North East with 52 percent and North Central with 35 percent.
It is therefore surprising that with this number of hungry children and even greater number of hungry people in the country, that 5,646 bags of 50 kg foreign parboiled rice, seized by the Western Marine Command (WMC) of the Nigeria Customs Service, were reportedly allowed to waste. According to news reports published on Tuesday, the rice worth N124.77 million, was said to have expired in the warehouse of the customs where it has been stored for almost two years. At the time of seizure, the rice was reportedly allocated to undisclosed Internally Displaced Persons (IDPs) to eliminate starvation, but were yet to be evacuated due to logistics problems. Other seized items also reportedly wasting away at the WMC, are said to include 219 kegs of vegetable oil worth N2,628,000; 500 bales of cloth with Duty Paid Value of N42,000,000; 42 sacks of shoes with DPV of N6,413,400 among others. The total DPV of the items seized, amounted to N297.8 million.
Area Controller of WMC, Comptroller Boyiliya Binga said, "Our warehouse can no longer accommodate any more seizures for storage. I am appealing to states, which were allocated these items for IDPs, to come and evacuate them. That way, we can have space for more seizures." A similar situation was reenacted in 2018, when the Seme Border Command of the NCS, destroyed over 1000 bags of rice which had been kept in their warehouse for over two years.
As with the latest report, the bags of rice were allocated to IDP camps in the North East, but the affected states, ravaged by Boko Haram insurgents, declined to receive them. The rejection was said to be been caused by the amount of funds required for logistics. To move the bags of rice, reportedly required some support from military personnel, who had allegedly demanded N5 million per truck to move these items from Lagos to the North East. Angered by the amount, the states such as Yobe, Borno and Adamawa, decided it was better to buy food for the IDPs with N5 million than give it to the military for the movement of rice and clothes seized by customs, which were given to IDPs, free of charge. Of the impounded items rotting away in warehouses, the worst hit is rice, tyres and second hand clothing.
In the last four years, billions of naira in the form of impounded food items and other smuggled goods have been lost through the Customs failure to effectively deploy them. A 2008 news report estimated that over N50 billion worth of seized goods were wasting away at various Customs warehouses all over the country. The amount was said to include N3 billion worth of vehicles, which could not be auctioned online due to the lack of Information Communication Technology infrastructure to sustain the auction platform.
In a bid to effectively utilize impounded goods and increase government revenue, the Senate in December 2017, set up an Ad Hoc Committee to investigate economic waste at the NCS. This followed a motion, "Urgent Need to Investigate and Curtail the Ongoing Monumental Economic Waste at the Nigerian Customs Service" sponsored by Senator Mohammed Hassan.
He said, "Reports show that the NCS has loads of impounded perishable goods of high economic value in its warehouses. These include food items and other goods impounded from commercial traders. Reports have revealed that Customs warehouses in Katsina, Kano, Maiduguri, Sokoto, Eastern Marine Port Harcourt, Western Marine Lagos, and Zone C Federal Operations Owerri and Port Harcourt, are filled with these impounded items which are rotting away at great cost to the economy."
The Customs leadership in response, directed all Area Comptrollers to grant the Senate Adhoc Committee, access to Customs warehouses. The Comptroller-General of Customs, Hameed Ali, through the NCS Public Relations Officer, Joseph Attah, denied the allegation of wastage. He said the Customs rather, was acting on a presidential directive that seized food items be given to IDPs in the Northeast.
Ali said, "Committee members have visited customs warehouses in Karu and FCT Command to confirm if indeed seized food items were being wasted as alleged. So far, 252,466 bags of rice and over 80,000 Jerry cans of vegetable oil, soap, ladies' clothes and shoes, among others, have been distributed since 2016. These items were duly presented to the IPDs at their various camps by National Logistics Committee, who were accompanied by some Senators. The process of handing over these items to IDPs involved these two groups." On the auctioning of vehicles, Ali said the Customs had launched the e-auction the second quarter of 2017. Preferring to adopt the latter over the manual process of auctioning, Ali added that more than 700 ordinary Nigerians had benefitted from it." Nothing more was heard about the findings of the committee, meanwhile the wastages across Customs warehouses continued unabated.
Regarding the present economic hardships, it is clearly unwise to let food items and other goods rot away at Customs warehouses when they could have been put to better uses. Except where confirmed to be unfit for human consumption, food items like rice can be auctioned away to rice traders and the money realized, paid into government coffers. However, the confirmation of the state of the perishable food items, must be confirmed by an agency no less than the National Administration for Food and Drug Administration and Control (NAFDAC). This is because as far back as 2016, the Customs had on several occasions said that some of the rice being smuggled into the country, had been certified unfit by NAFDAC. In one of such reports, Ali had said samples of some rice seizures made over a period, were referred to NAFDAC to ascertain their condition.
He said, "The test reports confirmed that smuggled rice through the borders was unfit for human consumption. This is as a result of the non-conducive conditions under which these bags of rice are stored while the smugglers wait, in some cases, for months for the go-ahead from corrupt customs officials before smuggling the rice into the country. Sometimes, these bags of rice meant for Nigerians' consumption are conveyed in coffins inside make shift ambulance vehicles."
A similar assertion was made in 2017 by the President of the Rice Farmers Association of Nigeria (RIFAN), Alhaji Aminu Goronyo, when he said that most imported brands of foreign rice were stale and meant for animal and fish feeds. He confirmed that test results run by NAFDAC on some of these rice imports showed that they were not safe for human consumption.
In instances where food items are duly certified unsafe for human consumption, they must be speedily and effectively disposed of. Storing them for prolonged periods in Customs warehouses only creates the possibility of these items finding their way into the black market courtesy of fraudulent customs officials. The same method applies to non-perishable item like vehicles, clothes or other household goods impounded from smugglers. These items most of which were seized in good condition can be released back to the owners after due payment of the appropriate duty.
The Customs must realise that the goal of its anti-smuggling campaign is to shore up government revenue. Giving smugglers the option of claiming impounded goods after the payment of appropriate duty is one method of increasing government revenue. It makes no economic sense to allow impounded goods worth billions of naira which could have sold and the money paid to the government, to waste. The government expends millions of naira annually to enforce its anti-smuggling campaign in terms of providing operational vehicles and other logistics.
Officials of the Customs are known to risk their lives daily in pursuit of smugglers and in some cases, actually lose their lives. Impounding goods from smugglers only to allow them rot away, not only rubbishes the efforts of the federal government financing these campaigns but also the efforts of dedicated customs officials risking their lives to ensure economic development.
There is no hard and fast rule about the disposal of smuggled items. So long as impounded rice has been rejected by the states they were allocated to, the Customs is at liberty to effectively dispose of the rice in a manner that encourages economic development and safeguards lives.