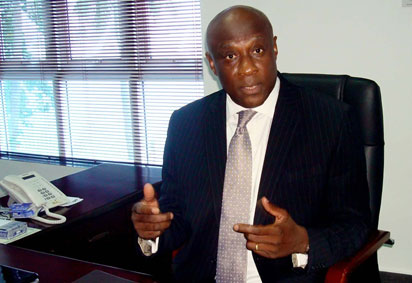 Former Minister of Interior and Chairman, Integrated Oil and Gas Limited, Capt. Emmanuel Ihenacho, said it is sad that recommendations made by stakeholders over the years on how to improve indigenous participation in the Nigerian maritime trade were not implemented by the Federal Government.
During a chat with SHIPS & PORTS recently, the foremost Master Mariner and shipowner said, "There are a number of key issues which we have talked about year on year in the shipping sector – the need for us to develop a national fleet; the need for the fleet to be owned predominantly under the private sector; the need for a specific special fund to be set up to assist indigenous operators to be able to buy tonnage; the need for Nigerians to participate in adding value to Nigeria's international oil trade by supplying vessels that carry that trade to refineries abroad; the need for us to have vessels that would participate in the inward trade, in semi-manufactured and consumable items.
"All these issues are things we have talked about for so many years and I still believe that if there is a systematic approach in dealing with these issues, then we can actually say something has been done but unfortunately those things still remain outstanding.
"The port sector has been beset by a lot of issues. The administration in the port management have tried their best to deal with these issues namely congestion in the vicinity of the port that is gradually choking the life out of Nigeria port. So that remains a major problem that really needs to be dealt with if our international trade is to run smoother.
"We have tried but a lot still needs to be done. It is sad that the government is not listening but we need to redouble our effort and get the private sector involved," he said.
Also speaking, former President, Nigerian Shipowners Association (NISA), Aminu Umar, said local shipping operators faced severe challenges in 2020, even as he expressed hope for a better new year.
He said, "From the operational side of shipping, we have so many challenges, particularly piracy in the Gulf of Guinea, which is localised here in Nigeria and some West Africa countries. We saw an increase in pirate attacks in 2020. It has been very bad for the shipping community. We have seen unprecedented numbers in terms of attacks and kidnapping. It has been a very challenging year in the operational side.
"In terms of commercial activities for the shipping industry, it has also been very challenging due to the COVIID-19 lockdowns in different countries including Nigeria and that affected the freight rate earnings. Levels of commercial activities have been greatly hampered because of the COVID-19 protocols."
Aminu noted that while the outlook for shipping globally is looking positive in 2021, Nigeria can only benefit if the government puts in more efforts to tackle the challenge of piracy.
"The outlook for shipping globally is looking positive in 2021. We believe that Nigeria is also part of the global village so there might be a positive ripple effect on the shipping business here in Nigeria.
"The only thing that would deter it is the piracy issue. If the piracy issue is not tackled, then we won't see the impact of the positive effect on the global outlook.
All the freight earnings will all go down the drains with ships trying to protect themselves in case there is hijack, sea robbery or kidnap'" he added.