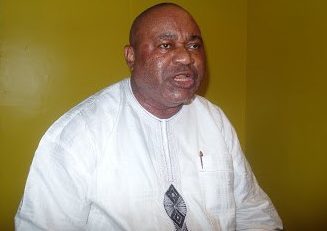 President-General of the Maritime Workers Union of Nigeria (MWUN), Comrade Anthony Emmanuel Nted yesterday accused some unidentified persons of spreading malicious information against his person over the union's forthcoming general election.
The election is scheduled to hold on March 17 in Uyo, Akwa Ibom State.
Speaking at a press briefing yesterday in Lagos, the MWUN leader alleged that some disgruntled elements and non-card-carrying members of the union have been spreading malicious insinuations about the union and its leadership.
He said, "The tenure of this administration will elapse in March and a new leadership will emerge. What is happening in the union is an eyesore. They have written about 15 petitions against me that I want to bring a stooge and I made it clear to them that I have just one vote and I cannot vote for two people at the same time. I am going to vote for just one person.
"In some of the petitions, they are calling that the union be dissolved that there is crisis in the union and those who sign this papers are not members of our union.
"I have never one day criticized any of the candidates and I have made it clear that all the candidates are more than qualified and anybody can vote for whoever he decides to vote for."
Need also appealed to the federal government to give one month grace period to importers whose vehicles are trapped at Seme and Idiroko borders following the recent ban on importation of cars through the land borders. He commended the government on the policy saying it will help increase traffic at the port, create jobs and increase government revenue.
He however noted that there is need for government to initiate a stakeholders meeting with the indigenous vehicle manufacturing and assembly plants to identify and address the challenges of manufacturing in the country.
Nted also decried the poor state of the port access road which he said has been in a state of disrepair for several years despite the union's effort to draw government's attention to the issue.
"As we speak, the roads have become death trap to every road despite. [Despite] strong assurances from the federal government and the Nigerian Ports Authority (NPA) that contract had been awarded [for repair of the roads), there is nothing on ground to show that contract has been awarded," he said.
Copyright 2016 Ships & Ports Ltd. Permission to use quotations from this article is granted subject to appropriate credit given to www.shipsandports.com.ng as the source.