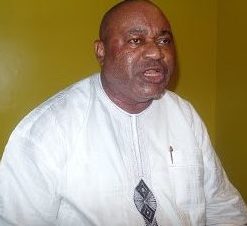 Comrade Anthony Nted is the President-General, Maritime Workers Union of Nigeria (MWUN). In this interview with Shulammite 'Foyeku, Nted speaks on the union's forthcoming general election with emphasis on his alleged foisting of an anointed candidate on the union. He also speaks on port operation and the condition of the port access roads, among other issues.
Excerpts:
How would you react to allegation that you have a candidate you want to impose on members of the union in the forthcoming MWUN general elections?
Saying I am imposing someone on the union is not correct. It is very clear that these are just mere allegations. There are series of petitions written against me, some to minister of transport, to minister of labour and so on. But that will not deter us from doing what is right. As far as maritime workers union election is concerned, the election will be conducted and those who are qualified to contest the election will contest. When they win the election, we will clap and all of us will come back home. I have just one vote and in a situation where three people are contesting for election, I can only vote for one person. I will support one person. I will not share the one vote among the three people. It is not possible. So, that I am supporting one particular person does not mean I am imposing the person on members of the union. We have other candidates who are contesting in the election so how can I be imposing the person on the union?  I have not done that one day. However, that does not mean that I will not look for one candidate out of the three that is qualified to take over from me. That is the person I will give my vote simple. For you to confirm that I am not imposing anybody, you find out that there are so many people who are qualified to contest and willing to contest. They will be given opportunity to collect the form, fill their form, sign it for them and go to the poll. That will make it clear that I am not imposing any person on the union.
How have you been able to sustain peace among dockworkers at the port?
Well, that is what many people have been asking me. Some people even ask me to do third term because the port have been peaceful for the past three years but I said if former President Olusegun Obasanjo cannot do third term, then it will be difficult for me to do. But one thing that makes us get to where we are today and to make peace in the port is because we believe in God. At every given time, we do what we call dockworkers restoration. Sometimes, when you go the branch, you get 500 to 600 people, then I will preach the word of God to them and I will make them to understand that the union we are running today is a scientific one and not the time of banging table, beating people and that if you do that we will expel you from the industry. And if we hear that you steal in the port or break container, we will expel you from the port and that was what we did. We always work with the workers. We always talk to them to understand what we want to do and what our intentions are at any given time. I will always tell them the truth not lies because if you tell lies and they find out, they will hate you. So at every given time, we tell them the truth, what we can do and what we cannot do. And to give you a typical example, if it were to be in the former administration and we tell dock workers, there will be no negotiations this year, there will be crisis in the port. But now, when you tell them such, they take it in good faith and they will tell you, PG is telling us the truth because things are really bad. For everything we do in the industry, as far as labour matter is concerned, we carry them along. That is the reason why we have been able to succeed to where we are today.
You commended the federal government decision to ban vehicles through the land borders, but don't you think there is need for a reduction in customs duties on vehicles that will be coming through the seaports?
If the federal government says cars should not come in through the land borders, the best thing to do is to reduce the tariff on vehicles so that people who import cars through the seaport will be able to make their business and that will also stop smuggling. We believe if the right thing is done, the policy will increase traffic at the port, create jobs and revenue for the government.
In few months time you will be leaving office. What is the one thing you could not achieve but will want your successor to look into?
There is something we are looking into that I have not done but I believe my successor will look into. There was a letter we sent to the Senate during the last administration that there is an urgent need for every stakeholders working in the port to contribute one percent for dockworkers welfare. That has not been done but I know my successor will take it up and we will continue to push until the National Assembly does something about it. If that is achieved, the pains the dockworkers are going through in the port today will be reduce to the barest minimum.
What is the current situation with tally clerks and onboard security?
The case is in court. The workers came to us and said based on ILO convention, if a person loses a job, there is need to create another one for him. But since the former Managing Director of NPA become adamant and not ready to do anything about the situation, the dockworkers decided to go to court. We have had series of meetings with the ministry of transport and the ministry is saying that when the government gave the contract to the tally clerk and the contract has expired, they have no business with the tally clerks again. But we told them that in the port today, we found out that every terminal operator engages stevedoring contractors and when the workers are leaving, the terminal operators gave them money to pay. So for NPA to be engaging the tally clerk and onboard security, as they are leaving, NPA need to give money to the stevedoring company to pay them but they refused. That is the bone of contention and that was why the workers went to court and we supported it.
As the leader of the workers, what do you think is the way out?
We have had series of meeting with the authorities and we are sending a letter to the minister of transport probably by next week. But because the case is still in court they said they don't want to discuss anything. We want to try again to send the letter to the ministry asking for a meeting where we can sit down and discuss with the minister again. If he agrees to listen to us then the best thing is to withdraw the case form court and settle out of court. That I think will be a better option and we are working on it.
Recently, Customs intercepted 661 pump action rifles. Do you think dockworkers have any role to play to stop such cargoes from going out of the port?
Dockworkers can help and they have been doing so a lot. When there is any danger at the port, they raise alarm, they are whistle blowers. But I want to believe that this particular container that carried the arms was not examined according to the information we heard from Customs. If the container was examined, the dockworkers will have raised alarm but because of corruption among the officers, they just allowed the container to exit without examination. But good enough the officers have been arrested.
You talked about some polices of government that have affected your members. What do you think is the way out of this situation?
We are asking the government to relax some of these policies so that people can clear their goods at our port. In recent time, importers and manufacturers have found it extremely difficult to access foreign exchange and wherever you get it at the black market, the price is outrageous. There is no how you can do business in this kind of environment. The implication of these policies is massive job loss and relocation of business companies to neighbouring countries which culminate to loss of revenue to the government. Security is also part of the problem. People's lives are not safe and people are being kidnapped on a daily basis. Investors will not want to come and invest in such environment. If you talk about electricity, it is zero. Apart from that, access road to the port is bad and without taking care of the access road to the port, businesses will not thrive. Valuable man hours are lost, accidents happen on the road, people are being killed because of the bad access road to the port. So we are again telling the government that they must fix the road as quickly as possible. The Nigerian Ports Authority (NPA) wrote us a letter that they have contracted the job to a contractor who will start the job as quickly as possible but as I am speaking to you, nothing has happened. That was why we said if nothing happened within a short period of time, we will shut down the port to draw the attention of government.
Copyright Ships & Ports Ltd. Permission to use quotations from this article is granted subject to appropriate credit given to www.shipsandports.com.ng as the source.