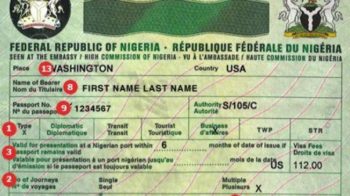 The Comptroller General of Immigration, Muhammad Babandede has announced the commencement of issuance of Temporary Work Permit (TWP) Visa by email to enable experts invited by companies/organizations to come into the country for temporary work purposes.
The Nigeria Immigration Service (NIS) spokesperson, Sunday James said in a statement that this is an addition to Visa on Arrival facility applied through the same process.
James noted that the introduction of TWP was part of the ongoing automation of the NIS operational activities which he added, is in line with the ease of doing business in Nigeria.
He said: "The Temporary Work Permit (TWP) application when approved usually within a timeline of 48 hours is forwarded to the Nigerian Mission in the country indicated in the application for the issuance of the facility.
"The expatriate is expected to proceed to that particular Nigerian Mission with his/her passport for the issuance of the TWP."
The Service Public Relations Officer stressed that applicants can make their applications via email to oa@nigeriaimmigration.gov.ng and addressed to the Comptroller General.
Meanwhile,  James said the Comptroller General has commissioned the NIS Contact Centre which is meant to attend to complaints from the public as well as inquiries.
"The contact details are phone; 07080607900, e-mail: nis.servicom@nigeriaimmigration.gov.ng", he added.