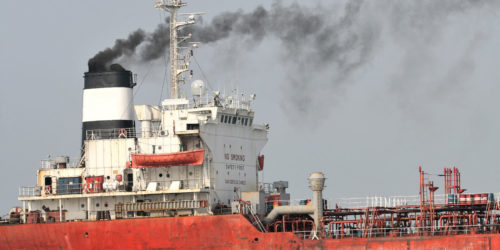 January 1, 2020 will mark the full implementation of the International Maritime Organisation (IMO) 2020 regulations reducing sulfur oxide emission from 3.5 percent m/m to 0.5 percent m/m. Full implementation of this regulation will come with unprecedented freight hikes. With fuel costs already constituting over 50 percent of operating expenses of carriers, the upcoming IMO 2020 regulation presents carriers and shippers with uncertainty and dilemma, says Seabury Maritime.
Nigeria as an importing nation with no ships for its import and export cargoes is bound to be badly hit by this impending freight hikes. Nigerian shippers will pay astronomically high freight rate, and this, no doubt, will be passed on to the consumers. With the global shipping community already getting restive and uncomfortable with the IMO 2020 regulation implementation, are Nigerian shippers aware of all this, and how prepared are they for IMO 2020 regulation deadline? Is Nigeria aware of the potential effects on costs and freight rates of this IMO regulation?
In October 2016, the Marine ad Environmental Committee (MEPC) of the International Maritime Organization (IMO) agreed to implement a global 0.5 percent m/m sulfur oxide emissions limit, effective Jan. 1, 2020. The current global limit is 3.5 percent.
According to IMO, new emission standards will lead to significant improvements in pollution derived from ships' emissions. Compliance by ship owners will lead to an increase in operational costs, which carriers will attempt to pass on to shippers through new bunker formulas.
Carriers have several ways to comply with these new rules, and each method brings its own advantages, disadvantages, and cost implications.
IMO expects shippers to accept and endorse that the benefits of environmental
improvement come with some increases in costs for low sulfur fuel. It also expects them to engage in a thorough dialogue and review of fuel surcharge trade factors with their carrier partners.
"The 2020 deadline to reduce sulfur oxide emissions is one of the most significant regulations impacting liner shipping in recent memory," commented Seabury Maritime vice president Nikos Petrakakos.
For Nigeria, it is common knowledge that freight rates for both long- and shorter-range routes out of West Africa have risen sharply in the past months amid tightening supply of vessels. Shipping companies freighting goods to Nigeria have been increasing their rates, including the General Freight Increase (GRI), Peak Season Increase (PSS) and insecurity surcharges to Eastern ports.
Elsewhere, there are usually negotiations between carriers and shippers. But in Nigeria, freight increases are shoved down shippers' throats. Over 65 per cent of goods in Nigerian market are imported. With the impending global freight hike from January 2020, the prices of goods may be out of reach of the average consumer.