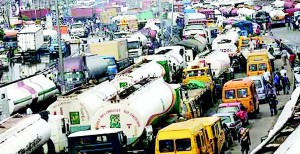 By Ace Omozuwa
The road networks to and withinApapa are in awful state. They create the impression that policymakers, industrialists, and governments are yet to fully realize the strategic geo-economic significance of the port district. The appalling state of the roads could significantly impedeNigeria's legitimate aspiration to be the indisputable politico-economic powerhouse of Africa. This is simply because, without good roads the quest for industrial development and economic buoyance is a mirage.
It is difficult to comprehend why relevant authorities act as if there is a theory of economic development that underplays the centrality of accessto market, labor, raw materials, andcapital to human flourishing.The ubiquity of bad roads across the six geopolitical zones make one to wonder if governments are testing hypotheses that seek to negate the fact that good roads are drivers of economic development. If we are not seeking to revert to economic primitivism, policy statements and actions should underscore the fact that good roads are critical to developing Lagos' comparative advantage in maritime services.
Sustainable national development does not happen by accident. It is a product of well executed development plans, which accord due priority to infrastructural improvement. Given the enormous contributions of efficient road transportation system to economic development,everyone expects the rebuilding of the Apapa road to be a keypriority of government. But it appears not to be so. Frequently, tokenistic political measures are made to dissipate the mist of public despair. However, half measures are not catalysts of enduring economic development and national cohesion.
It is extremely difficult to reliably compute the economic setbacks the dilapidated Apapa roads have caused the nation. According to the Minister of Power, Works and Housing, BabatundeFashola: "Right now, the total loss to the economy is over N10 billion daily." This estimate is rather modest.  However, it shows that government is aware that Apapa is not a fringe enclave of ascetic monks. In fact, in recent times and in more developed climes, monkswhose social and economic contributions to national development areslightly indeterminablehave better roads to their remote monasteriesthan Nigerians have to their workplaces.
Infrastructural deficit in Nigeria is often attributable to paucity of public funds. Hence, it is refreshing that BabatundeFashola has consulted widely with stakeholders, and they have evolved an innovate solution. The federal government is now working in partnership with the Dangote Group to renovate the road in exchange for tax credit.
On Tuesday last week, after a meeting with Vice President, Prof. YemiOsinbajo at the Presidential Villa, the chairman of Dangote Group, AlhajiAlikoDangote, disclosed that the reconstruction of the 35 kilometresApapa–Oworonshoki expressway will begin this week.  This development is salutary. However, opacity must be discouraged; the cost should be made public.
Commuting through the Apapa-Oshodi express road is a nightmarishly Herculean task. It virtually equates to a sadistic test of endurance. On a regular business day, it takes about four hours to make the rather short trip.  The poor state of the road is compounded by the chaotic parking of tankers and trailers. It seems the only people "benefiting" from the gridlock are commercial motorcyclists. During the day, they charge between three hundred and five hundred naira within the port vicinity. But in the evenings their fares are astronomically high.
Miscreants have turned the Seven Up-Apapa Bridge to an axis of terror.  They freely engage in different criminal activities there. They rob, molest, and inflict grave harm on road users; due to the heavy presence of trailers and tankers along the road. To make it a safe business district, it is imperative for relevant authorities to quickly develop purpose-built parking lots for trailers and tankers. In fact, truckers and haulage companies can play significant roles in this regard. They can unite; pool resources together, get a vast place, and develop it to a holding bay.  Similarly, it is also important for owners of tank farms and depots to do business with human face. Their parking lots should be opened totrucks drivers.  Nothing stops them from generating revenue by so doing.
We must not forget that impassable roads are active stressors. Stressors debar optimal performance. The stress of commuting eventually affects people's health and wellbeing.  Whatever policy of government aimed at enhancing ease of mobility inevitably enhances the wellbeing of the citizenry.
From experiential standpoints, every socioeconomically sentient Nigerian can write a first-class thesis on the many-sided woes of impassable roads. We are our victims of infrastructural deficit. We embody the miseries of travelling along terrible roads. We know the pains of aborted dreams due to lack of access to markets.  We have suffered the tragedy of business failure due to traffic gridlock. Even the power-deluded, siren-blaring public servants do not live above the woes associated with bad roads. Yet, they do nothing fundamentally new to rewrite road users' narratives of despair, but pay lip services.
It reinforces the popular sentiment that in Nigeria rhetoric trumps action. Government, political actors, and policy planners seemingly think that good speeches are the critical driver of sustainable economic development. They appear unmindful of the American maxim: "Talk is cheap".
Development mostly comes when constructive policy actions complement rhetoric.  Good rhetoric may inspire people.  But it cannot construct road, build bridges, feed the poor or lift people out of poverty. True development is always a byproduct of rhetoric-policy consonance.
Some egomaniacs in power have a warped concept of the roles of good road to economic development, social integration, and inter-regional connectivity. To them, constructing good roads are acts of political benevolence, a way of saying thank you to their political supporters.
It is incumbent on all citizens to remind such political actors that good roads are pivotal to economic development. They could entrench the high ideals of pro-human capitalism. In every industrial and postindustrial society, they facilitate optimal production, efficient distribution of goods and service as well as capital and skill mobility.  No nation aspiring to thrive in today's global economic order can afford to treat road construction and maintenance as belonging to the exclusive list of donor agencies.  It cannot and should not be seen as fringe benefit of political alignments or a task for philanthropic industrialists.
Political power educes amnesia. It causes a particular forgetfulness of almost all that is noble and worth pursuing. This may explain why some public functionaries are lethargic the rapid transformation of Nigeria. Due to the delusional luxury of power, they forget their campaign promises, and the codes of noble conducts. This forgetfulness emboldens them to deploy state power to make a travesty of popular aspirations. Vanity would always be the main preoccupation of amnestic leaders.
Another reason for Nigeria's perennial infrastructure deficit is because our leaders do not aim high. Aspirational poverty is a mark of the ruling class. Studies have shown that the negative effects of aspirational poverty are worse than those of material poverty. Often material poverty causes the inability to aspire to accomplish great things. But this may not be the case with our leaders. Thiers may be due to destructive self-centeredness.
Leaders plagued by aspirational poverty monumentalize egoistic consumption. They equate buying private jets with pro-people development. They are indifferent about how history will judge them. Hence, they squander their moments of building legacy in pursuit of hedonistic adventures. All altruistic efforts to address Nigeria's infrastructural deficit will result to a chasing of the wind, if our leaders do not ethically alleviate their aspirational poverty.
The point cannot be overstated; Apapa is not an economic wasteland, it is a significant hive of industries. It is the epicenter of ports and terminal related business activities in Nigeria. The marginal commitment to infrastructural renewal in the area eloquently tells how unprincipled politics of development trivializes the significant, and magnifies the insignificant.
Apapa is a gateway to emerging frontiers of economic prosperity. Its infrastructural improvement is critical to the successful diversification of Nigeria's monolithic economy. The current efforts to reconstruct the roads will not produce the desired effects, if government and key economic actors do not see them as foyers to enduring national wealth.
.
Copyright Ships & Ports Ltd. Permission to use quotations from this article is granted subject to appropriate credit given to www.shipsandports.com.ng as the source.