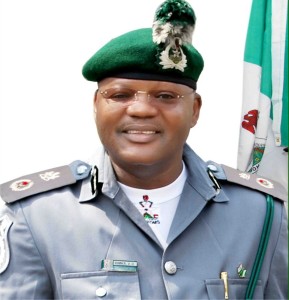 Comptroller Victor Dimka is the Area Controller of Seme Command of the Nigeria Customs Service. The command is the busiest land border trading post in West Africa. In this exclusive interview with Shulammite 'Foyeku,Dimka speaks on the recent federal government policy banning the importation of vehicles through land borders and poor working environments at the command among other issues.
Excerpts:
The ban on importation of vehicles through the land borders has since come into effect, what measures has the command put in place to ensure effective implementation?
The government in its wisdom knows when any policy that will affect the economy should be made and because of so many reasons the government felt it is better the importation of vehicles through the land borders be stopped. Being citizens that are working with the federal government, Customs of Seme just like so many other units of Customs have always tried to enforce the laws. With this recent pronouncement, we have made sure we sensitize people that January 1st is the deadline. We have already done our roster, moving all officers that are in vehicle seats to be posted to other seats particularly the routes that we consider could be used by smugglers. We have blocked all the routes and new ones are being created. For Seme, it is not easy because you have basically two major routes. The one from Owode and the main border except from the creeks but they can't carry vehicles through the waters. Earlier on, we have dismantled illegal checkpoints that were thriving and ensure that illegal routes are fully blocked. Now we have sent our moles to know exactly the minds of people that will still want to smuggle vehicles despite the directive. We have made a lot of discoveries but these are things that cannot be disclosed because if you want to catch a smuggler, you don't give out strategies so that they don't counter such strategies but we have blocked all the routes they might want to take. We are battle ready and equal to the task. We are also working closely with the federal operations unit – the compliance team, Army, Police and the State Security Service to ensure that we don't give them (smugglers) any breathing space.
Prior to the ban, what challenges do you have with the Customs authorities of Benin Republic who have been accused of aiding smuggling into Nigeria?
We have been having a lot of challenges in regards to handing over of vehicles on transit to Nigeria. Past Comptroller Generals of Customs and even the present CG tried all they could to see that all vehicles that are Nigerian-bound through Benin Republic are handed over to the Nigeria Customs in Seme or Idiroko. Before the rise in rate of duty, we always had 500 vehicles here per week but when that happened, people started smuggling these vehicles. Why we continue to say Customs in Benin Republic has not helped is because we have entered into so many Memorandum of Understanding (MOU) asking them that they transfer these vehicles to us. They have been taking their own fees from these vehicles as they come, but all we need and requested for was that they hand over these vehicles to us so that they can also pay duty here but they never hand over brand new vehicles to us and from records we know that these things are coming into Benin Republic. It was until the government pronounced that vehicles will no longer come through the borders anymore, then the number of vehicles coming in even though they are not new ones went high. So the question is where were these vehicles before now? Why is it that it was until the pronouncement that they begin to bring in high number of vehicles, at times 120, 130 when in the past you will not get up to 13 or at most 20 vehicles handed over to Customs here?  This non-compliance of Benin Customs must have given rise and contributed to the reason why government decided to place ban on vehicles through the land borders. Benin Customs will no doubt blame themselves for this even though the few vehicles escorted and handed over to us has always given Seme command slightly over 50 percent of its revenue. But the government knows better. They are enriching themselves there as a government and they are not looking at the plight of Nigeria and its government. It just means there is no symbiotic relationship. The reason why people coexist is to help each other but if they are not helping us what is the need to continue with it. We went there, they said they will comply but after a short while, they will renege.
With the ban on vehicle and earlier ban on rice through the land borders, how will your command rake in revenue?
We will remain with the general import and try to see that we maintain very good trade facilitation business. You can't give what you don't have. If rice is no more coming and now vehicles that use to give us more than 50 percent of the revenue is going to seaport, we are just left with import of general goods which will still come through Benin Republic and they may decide to do otherwise. If they do, then it means, we will be left with nothing. We don't control what comes in from Benin Republic. We have asked times without number for them to handover goods that on transit to Nigeria to us directly, if you go there, you will see there is nothing on our side here. They are in Atlas Park because the park is in Benin. It is just like the issue of the offices we have been talking about. Our baggage hall is in Benin and that has been a very big challenge. So if they decide they are not handing over general goods again, we will be just be left with anti smuggling activities.
Despite the ban on importation of rice through the land borders, smuggling of rice still persist. Will this also not happen to vehicles?
The policy of government cannot just come in one day. They must have looked at the pros and cons before arriving at such decisions. I want to reiterate the fact that not every rice seen in the markets are smuggled into the country. The quantity of rice that being smuggled cannot equate the one that duty is being paid on. We must not forget the fact that smuggling is one thing you cannot completely eradicate. At times people make mistakes with the assertion that any rice you see in the market is smuggled. The ports are open in the sense that you can bring in rice through the port and pay your duty. Not all the rice that is seen in the market is smuggled particularly when you know that the life span of rice is not two months. If before the ban on rice through the border, people had imported a large quantity of it and the market is not there so to say, the rice will still be there. Because the government said rice should not come through the borders stations except for the seaports means that it is stopped and duty is being paid. So it will not be right to say that because rice is banned what you see in the markets is all smuggled rice.
Officers of the command have been severally accused of extortion. What are you doing to curtail this?
In any organization, you will have deviants. You cannot vouch for everybody but with the sensitization we have always given on parade, I have never seen any person walk to my office or to the Public Relations Officer to complain that he was extorted by officers. The officers at the checkpoints have nametags but we have not seen anybody report such case to us. I am not saying it might not be happening but anybody that knows that we frown at such things will not want to stay back there and be extorted. I keep saying that why would you give somebody money when you have not done anything wrong? At times, people will go and begin to smuggle and when officers get them arrested, they begin to say officers are extorting money from them. When they say things like this, it is because they want to give dog a bad name to crucify him. The officers in charge of all these units are officers that are very credible, so they will not allow things like that to happen. As I said earlier, everybody in an organization cannot behave the same way.
There have been complaints of poor working environment and poor office accommodation among your officers. Don't you think this could give rise to corrupt practices among officers?
Doing that is wrong because I can't agree with the fact that because the conditions of the Service are not very favourable then people should continue to do things that they are not supposed to do. It is about consciousness and how one is trained. It depends on human nature and anybody that is well guided with principles will not want to do that. The ECOWAS building has been under renovation for a very long time. When you put people under a big roof, you will be able to checkmate them when there are issues like these but when they are scattered, they will be doing some things without your knowledge. So the putting of our offices in Benin side as against housing the customs of Benin and Nigeria under one ECOWAS building has been very challenging to us. Just last month, they gave the first certificate of completion of the building but they are yet to furnish the offices.
Often times we hear of clashes between officers of your command and host communities. How is the situation now?
There is now sanity at the command. Where people used to carry rice and other smuggled items and are being chased by officers is no more there and that is the reason why you don't see people writing about such things. I can speak up for Seme that it is no more happening. We have been able to talk with the traditional rulers within Seme vicinity. We have been able to talk to the youths and we have been having meetings with all stakeholders within the border community and telling them the dangers of smuggling to the economy. They have accepted and taken this preaching even to their homes and immediate communities. We have been telling them Customs is friend to all of them. There is no reason why a customs officer will just go into any compound when he does not have reasonable information or intelligence to warrant him go in there. We search premises without warrant because we are backed up by the law but we don't just do that if we don't have credible information. With this relationship, we have been able to minimize clashes almost completely between customs and the host communities.
A number of checkpoints have again resurfaced along the Seme–Agbara axis months after they were dismantled. Are these legal checkpoints?
People don't differentiate a patrol base and a checkpoint. A checkpoint is where you have barriers and when you come, they either move such barrier or stop to search a motorist. We have checkpoints approved by the federal government, the one at Gbaji and Agbara.The one at Agbara is manned by operatives of the Federal Operations Units (FOU) and others while the one at Gbaji is manned by officers of Seme command, Compliance team and the FOU. Any other person you see might be there based on intelligence report. A smuggler who is driving will not do that as if he is on a leisure drive and because they know that they can't pass through the creeks and waters, they try to force themselves in. As I speak, we are leaving in offices that are just like makeshift. The baggage hall is not there for proper checking. Because the baggage hall is not there, people will come in through unapproved routes. So because the bridge is only the place where they must cross, the officers will have to stop them at the entry points before they get to the checkpoint because when they get to the checkpoint at times they are very rough and want to run over officers and other genuine businessmen.
Copyright Ships & Ports Ltd. Permission to use quotations from this article is granted subject to appropriate credit given to www.shipsandports.com.ng as the source.