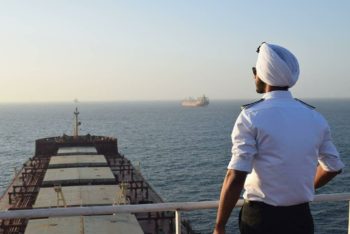 The data on the rising number of seafarers who are "active and employed" on world merchant shipping fleet will help India prove a point against global agencies that have suggested a waning popularity of Indian seafarers among fleet owners and ship managers.

India, according to these agencies, has lost some of its sheen as a big supplier of quality manpower to the global shipping industry, with China and the Philippines surging ahead — the former holding the top slot in the supply of officers and the latter for ratings or general-purpose staff.
Fifth largest supplier
India is the fifth largest supplier of officers after China, the Philippines, Russia and Ukraine, according to the 'Manpower Report 2015', published by the Baltic and International Maritime Council (BIMCO) and the Internal Chamber of Shipping (ICS). BIMCO is the world's largest shipping body.
India does not agree with the BIMCO report on Indian seafarers.
"There has been a perception that we are losing out to other seafarer supplying nations which is not necessarily true," a DGS official said. "Even in a global downturn, our seafarers are in demand. And it's a very healthy year-on-year increase if you see the increase that is there," he added.
India ended 2017 with 154,349 seafarers engaged on merchant ships, compared to 143,940 in 2016, 126,945 in 2015 and 117,090 in 2014, according to the DGS.
Of the 154,349 seafarers, 71,177 are officers while 83,172 are ratings or general-purpose staff accounting for 97,937 jobs on the nautical side and 56,412 on the engineering side.
"The figures speak for itself despite the adverse remarks of many people," the DGS official stated.
India has some 134 maritime training institutes, of which 81 are conducting pre-sea training courses for trainee officers/cadets and trainee ratings and 53 are post-sea training institutes which offer specialised programmes for full-fledged officers in both nautical and engineering streams.
Quality of training
Over 5,000 cadets who have passed out of maritime training institutes are not employed, as they have not been able to complete the mandatory on-board ship training, according to the Shipping Ministry.
The lack of employment opportunities has also been hit by a global downturn in the shipping industry since 2008.
The maritime administration has introduced several measures to improve the quality of training of cadets and their "employability" to tap into a potential demand for ship officers.
The global supply of officers is forecast to increase steadily, but this is predicted to be outpaced by increasing demand for as much as 147,500 more officers by 2025 to service the world merchant fleet, according to the BIMCO report.
Some officer categories are in especially short supply, including engineer officers at management level and officers needed for specialised ships such as chemical, LNG and LPG carriers.
Source: The Hindu Business Line   
Copyright Ships & Ports Ltd. Permission to use quotations from this article is granted subject to appropriate credit given to www.shipsandports.com.ng as the source.