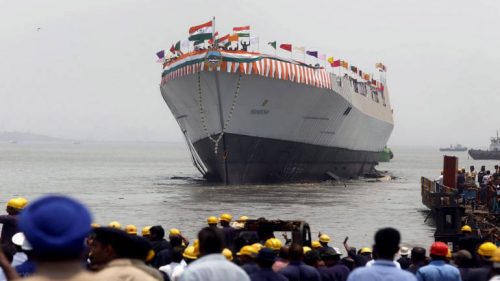 The Indian government is working on a plan to raise INR650bn ($9.25bn) through the sale of its equity holding in as many as five public sector undertakings (PSUs), including national carrier Shipping Corporation of India (SCI), refiner Bharat Petroleum (BPCL) and Container Corporation of India (Concor).
The plan, drawn up by a panel of secretaries, will have to be cleared by the central cabinet before the actual sale process can commence.
SCI happens to be a 'Navratna' (one of the 16 jewels in the Indian crown) company, while BPCL has been classed one level higher, as a 'Maharatna' (one of the eight larger jewels). The status determines the level of autonomy granted by the government in the day-to-day running of the company and its long-term investment plans.
At the moment, the central government holds 63.8% of SCI's equity, 53.3% of BPCL's shares and 54.8% in Concor. Power companies THDC (formerly Tehri Hydro Development Corporation) and NEEPCO (North Eastern Electric Power Corporation) are the other two outfits, in which the government owns 75% and 100% equity, respectively.
"The entire equity held by the government in four PSUs is proposed to be put up for sale, while only 30% stake will be sold in Container Corporation of India," a top government source revealed. "Based on the current market valuation of these companies, the government hopes to raise around INR650bn."
The divestment plan proposes to raise just under half the total resources of INR1.45trn ($20.6bn) that are required for public spending, to improve public facilities, as also cover the loss occasioned by the substantial lowering of corporate taxes, announced by Finance Minister Nirmala Sitharaman last week.
The government hopes to raise at least INR1.05trn through either disinvestment on the stock markets, or through the strategic sale of a controlling stake to corporate entity, to whom it will then hand over management control.
The 58 year old SCI, had been incorporated on October 2, 1961, by the amalgamation of Eastern Shipping Corporation and Western Shipping Corporation, into India's first public sector company in shipping.
In 1992 an 18.5% of SCI's equity was sold to mutual funds, banks and foreign institutional investors. This was followed in 1994 by a second divestment of 1.37%, also in favour of financial institutions.
In 2000, the government conferred on the company 'Mini Ratna' status, for enhancing the company's Board powers for capital investment. In 2008, SCI achieved ISO-9000 certification, and was upgraded to the status of a 'Navratna'. Bonus shares, in the ratio of 1:2 (one share for every two held) were issued.