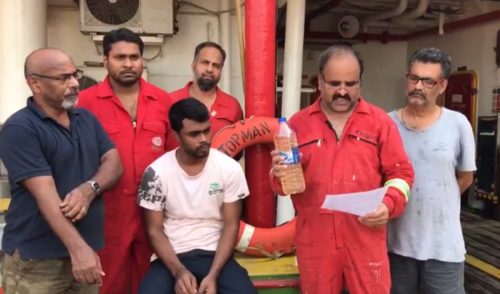 Eight Indian sailors are stranded without full wages for nine months aboard a vessel in Dubai, a media report said on Tuesday.
The crew members of the Panama flagged ship, which entered Dubai waters in November last year, claimed that their company had abandoned them without providing wages and enough food and fuel, Gulf News reported. The ship, m.v. Topman, is docked at berth No. 13 in Dubai Maritime City. The sailors said they had only been paid one month's salary since they reached Dubai.
"We have lost seven-eight kilos. We don't have energy in us. Our families are suffering back home. The situation is so tough that we are on the verge of (committing) suicide," said one of them.
An executive from the company's representative office in Sharjah said the company was facing a financial crisis and would be able to pay the pending wages only after selling the ship. "We had given them an option to go home with one month's salary and we will pay the rest after the sale. But they are not ready to do that," he said.
Source: PTI