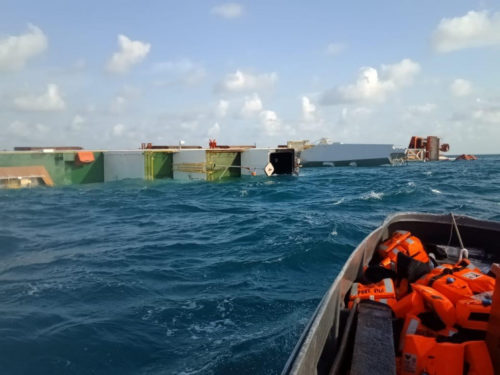 A Vanuatu registered ship capsized on Sunday after it collided with the Antea, a 40,000-dead weight-tonne oil product tanker north of Bintan Island in Indonesian waters of the Singapore Straits.
Officials said Monday no fatalities were recorded after the 2002 built MV Star Centurion, an undersea cable and pipe-laying vessel collision with the the Hong Kong-flagged oil tanker.
The Antea sustained damage to its hull and have been moved to Singaporean waters, officials added.
"It's already capsized, but it hasn't sunk completely," the Head of Operations at the Indonesian Coast Guard base at Tanjung Uban on Bintan, Samsul Nizar, said.
Coast guard vessels were monitoring the ship, Nizar said, and all crew were in a safe condition and had been rescued by Singaporean authorities.
The Singapore Straits are one of the world's busiest shipping zones with hundreds of container ships, oil and fuel tankers and dry bulk carriers daily traversing the waters that connect East Asia to Europe, India and Africa.