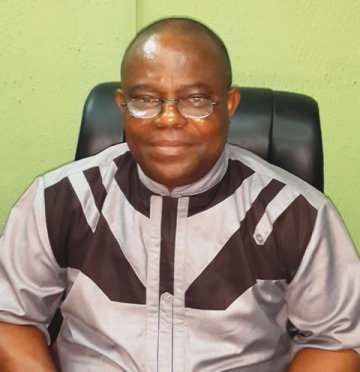 President, Nigerian Institute of Freight Forwarders and Customs Brokers (NIFFCB), Dr. Zebulon Ikokide, has said that no part of the Council for the Regulation of Freight Forwarding in Nigeria (CRFFN) Act stipulates that only elected freight forwarders can occupy the position of the Governing Board Chairman.
Ikokide stated this in a chat with SHIPS & PORTS DAILY in Lagos on Thursday against the backdrop of criticisms trailing the appointment of a retired army Colonel, Tsanni Abubakar as Chairman, Governing Board by the Minister of Transportation, RotimI Ameachi.
Ikokide explained that while the provisions of the CRFFN Act stipulates that the Board Chairman must be elected among the elected council members, it does not count whether the person who emerges as Chairman is a professional freight forwarder or not.
He however urged the newly inaugurated members of the board to focus on achieving the core mandate of the council by professionalizing the freight forwarding practice.
According to him, "The Chairman is supposed to be elected among the members of the board of which he is one, but the mode of election is what is questionable. I understand that the Minister made all the elected members chose him not that he was duly elected.
"However, his role as Chairman does not count more than other members who are there and supposed to be professionals. So anybody who emerges as Chairman does not actually count.
"The law did not say that anybody who is a freight forwarder should be the Chairman alone. It only says that out of the governing council members, they should elect one person as Chairman.
"It did not specify who they should elect because all of them are qualified as members of the board of the council, so any one of them can emerge as the Chairman.
"So for me, the most important thing is that they should work together and ensure that they bring freight forwarding practice to the next level."
Meanwhile, all the 32 members of the Governing Board on Thursday took oath of office after the Minister pronounced the council inaugurated.