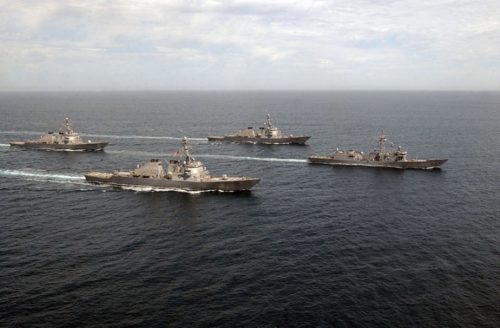 Insurers and flag-states are urging extreme caution and heightened security measures for vessels sailing in the Straits of Hormuz following the attack on two tankers on Thursday.
The Front Altair and Kokuka Courageous were both attacked in the Gulf of Oman forcing their crew to abandon ship.
In a circular P&I insurer Gard said, "While the cause of the incidents that took place in the Gulf of Oman on 13 June 2019 has not been confirmed, all vessels, and tankers in particular, are advised to operate with a heightened level of security in the Gulf of Oman/Strait of Hormuz/Persian Gulf region."
Gard also quoted an intelligence report by the Norwegian Shipowner's Mutual War Risk Insurance Association, which assessed the threat as "high" for tankers, oil and gas shipping operating in the Persian Gulf, Strait of Hormuz and North Western Gulf of Oman. For other vessel types it was assessed as moderate.
It advised shipowners, operators and masters to exercise "extreme caution" when operating in the area. Owners were advised to undertake new ship and voyage specific threat risk assessment before entering the region and keep well clear of Iranian territorial waters.
Flag-state the Liberian Registry said it was closely monitoring the threat to shipping. "We strongly encourage vessels transiting the Gulf of Oman, Straits of Hormuz, and those near Fujairah, UAE to continue to maintain the utmost vigilance and increased security conditions aboard," it said in a security advisory.
Owners and operators were strongly encouraged to implement measures equivalent to Security Level II and to follow BMP5.
The Norwegian Maritime Authority has already raised the ISPS/MarSec security level to level two for vessels arriving Strait of Hormuz within the boundaries of N25° – N28° and E054° – E058° for Norwegian-flagged ships.
Meanwhile in an update to members the UK P&I Club said: "Due to the recent attack on vessels in the Sea of Oman, Members are reminded of the following update and to exercise extreme caution in the region."
The exact cause of the attacks remains unknown with the US blaming Iran, and Iran saying the accusations are unfounded. The US Navy has published video which it says shows an Iranian patrol boat removing an unexploded limpet mine from the Kokuka Courageous.
The attacks have been widely condemned by shipping industry organisations and raise the spectre of disruption to trade in the Straits of Hormuz one of the world's key waterways. 
Copyright Ships & Ports Ltd. Permission to use quotations from this article is granted subject to appropriate credit given to www.shipsandports.com.ng as the source.