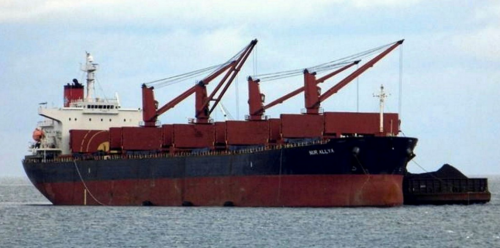 Intercargo has urged ship owners and operators "to exercise extreme caution" when accepting nickel ore and other cargoes that have the potential to liquefy.
The move comes in wake of the potential loss of Indonesia-flagged 52,400 dwt bulk carrier Nur Allya, reported missing in Indonesian waters since August 20.
The 2002-built ship, crewed by 25 seafarers, was carrying nickel ore and was en route from Sagea, Gebe island, to Morosi, southeast Sulawesi when it lost contact.
Although the cause of the potential casualty is still not familiar, Intercargo stressed "the importance of adhering to the provisions in the International Maritime Solid Bulk Cargoes Code (IMSBC Code) to ensure the safety of lives at sea and the safe transportation of dry bulk cargoes."
The association added that it is "indeed frustrating to see a lack of consolidated efforts and commitment from all stakeholders" to eliminate the problem and safeguard the lives of seafarers, despite a heightened awareness of the problem by the industry.
"Moisture related cargo shifting and incidents on voyage, widely known as liquefaction, continue to be a major concern for dry bulk shipping," the association of dry cargo shipowners noted.
Earlier this year, Intercargo released a report in which it stated that loss of life arising from bulk casualties, that occurred over the past ten years, was mostly caused by cargo failure and liquefaction.
Reported bulk carrier casualties during the period from 2009 to 2018 accounted for the loss of 188 lives, while 48 bulk carriers over 10,000 dwt were identified as total losses. Of these, cargo failure and liquefaction are believed to have caused 9 casualties with loss of 101 seafarers' lives during the period, including 6 bulk carriers carrying nickel ore from Indonesia, 2 with laterite (clay) iron ore from India and 1 with bauxite from Malaysia.