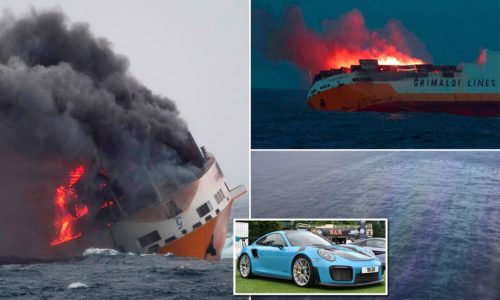 Italian container/roro ship, the Grande America, which sank off the French coast on Tuesday 12 March 2019, went down with no fewer than 2,000 vehicles including 37 Porsche cars worth $10.8 million and other luxury brands. 
The 37 Porsche cars onboard, including four models of the 911 GT2 RS, 718 Caymans, Boxters, and Cayennes, were worth $292,200 each, amounting to $10,811,400 in all. 
Carscoops reported that the Stuttgart-based company has written a letter to its Brazilian customers informing them that they would reproduce the model especially for them.
"We are sorry to inform you that, due to a fire, a Grimaldi group ship, that was transporting your vehicle, sank on March 12, 2019,' the company wrote to its customers. And for that reason, your GT2 RS can not be delivered.
"As you may know, Porsche ended the 911 GT2 RS production on February 2019 and under normal circumstances, it wouldn't be possible to give you another car," Porsche said. 
Other luxury car brands in the sunken ship include Audi, which had an unspecified number of its models A3, A5, RS4, RS5 and Q7 onboard. The prices of the Audi cars range from $44,200 to $74,200. 
Grimaldi Lines, the Italian company, which operates the vessel, said that the ship carried 365 containers – 45 of which had hazardous materials. These materials, according to the Italian company, included 10 tons of hydrochloric acid and 70 tons of sulphuric acid.
French authorities said that because most of the materials onboard the ship had already burned, the damage was likely to be very localized and would not have serious consequences for the environment. 
The 22-year old MV Grande America, owned by Grimaldi Lines, sank at 1526 hours local time about 180 nautical miles off the French coast. The ship went under after a fire outbreak on the night of Sunday March 10 while it was underway in the Bay of Biscay during a voyage from Hamburg, Germany to Casablanca, Morocco. The fire was primarily located in cargo containers in the forward portion of the ship. Several containers fell off into the water while it was burning before it eventually sank on Tuesday afternoon.
All 27 crew members abandoned ship in a lifeboat and later rescued by British frigate HMS Argyll and were taken ashore to the French port of Brest.