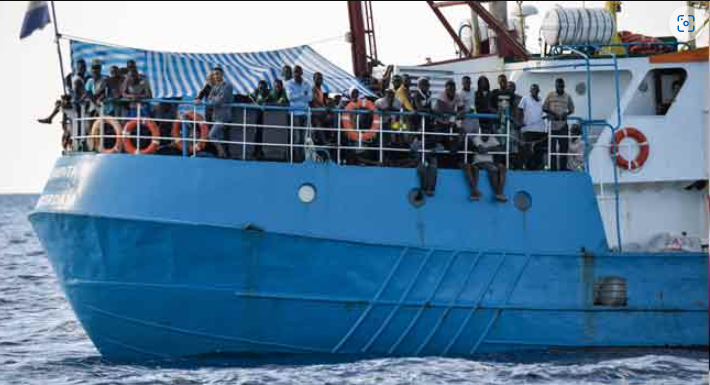 A German charity said on Friday its rescue ship was impounded by Italian authorities for breaching tougher migration rules introduced by the country's right-wing government as part of a crackdown on NGO sea-rescue activities.
The Mare*Go organisation said it disobeyed instructions to take 36 migrants it picked up on Thursday to the Sicilian port of Trapani, taking them instead to Lampedusa island, saving itself hours of navigation.
"The rescue ship is blocked for 20 days in Lampedusa", the NGO in a statement, adding it would also likely face a fine "because we broke the new Italian Decree Law".
Noting that Trapani was 32 hours away from the location where the migrants were picked up, the NGO tweeted: "We clearly communicated to the authorities that #Mare*Go is not equipped to treat the rescued people on the move for that period of time".
The Italian law, approved by parliament in February, requires charity-run ships to head to port immediately after a rescue, preventing them from carrying out multiple operations at sea.
Italian authorities have also started a practice of instructing ships to head to more distant ports, not just in Sicily but further up the Italian peninsula, in some cases hundreds of kilometres away.
Charities that do not comply with the rules risk fines and the impounding of their vessel.
In March, a rescue ship funded by British street artist Banksy was seized in Lampedusa after Italy's coast guard said the boat had disobeyed its orders to head to Sicily and instead went to look for more migrants in distress.
Italy's Prime Minister Giorgia Meloni said in December 2022 that the clampdown on charity ships was needed to stop them from acting as "ferry boats" for migrants, going "back and forth with human traffickers to shuttle people from one country to the other".
Copyright Ships & Ports Ltd. Permission to use quotations from this article is granted subject to appropriate credit given to www.shipsandports.com.ng as the source.