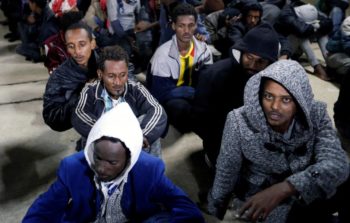 Italy wants Libya's coastguard to take responsibility within three years for intercepting migrants across about a tenth of the Mediterranean even as Libyan crews struggle to patrol their own coast and are accused of making deadly mistakes at sea.
Six years after the revolution that overthrew Muammar Gaddafi, Libya is split between rival governments in the east and west while ports and beaches are largely in the hands of armed groups.
Migrant smuggling has flourished, with more than 600,000 making the perilous journey across the central Mediterranean in four years. Migrants transiting through Libya often endure appalling conditions, including rape, torture and forced labour.
The Italian plan, outlined in a slide presentation seen by Reuters, shows that Italy and the European Union are focusing on rebuilding Libya's navy and coastguard so they can stop boats. But aid groups say the Libyans are poorly trained and accuse them of mishandling a rescue last month in which some 50 people are thought to have died.
The Libyans return all migrants, including refugees, to Libya even though the situation on the ground there is far from resolved. Italy has been coordinating rescues off the Libyan coast since 2013.
The 30 slides show spending of €44 million ($52 million) to expand Libya's capacity by 2020, equipping the coastguard and enabling it to establish its own rescue coordination centre as well as a vast maritime search-and-rescue region. It also foresees a pilot project for monitoring Libya's southern border. The project draws on European Union and Italian funds, and needs EU approval.
The plan was presented by the Italian coastguard at a conference hosted by the EU's anti-trafficking mission, Sophia, in Rome last month. Representatives from the EU, non-governmental groups and various Mediterranean navies and coastguards attended the closed-door presentation, said a source who was present.
Libya's coastguard has already been pushing further into international waters, often firing warning shots or speeding close to charity boats. Over the summer, three charities abandoned rescue operations in part because of fears of the increasing Libyan sea presence.
Arrivals to Italy have fallen by two-thirds since July from the same period last year after officials working for the U.N.-backed government in Tripoli, Italy's partner, persuaded human smugglers in the city of Sabratha to stop boats leaving.
The Libyan coastguard also increased the rate of its interceptions, turning back about 20,000 this year, though it still only stops a portion of the boats.
The crisis remains a major issue in Italy. State shelters for asylum seekers are nearly full, and with elections looming politicians across the spectrum insist the flows from North Africa be stopped, which the new scheme is likely to address.
Italy's coastguard did not reply to a request for comment. The Prime Minister's office referred questions to the interior ministry, which is spearheading the effort to fight people smuggling in Libya and also had no comment.
"Each nation has the right to declare its own search-and-rescue zone, and to carry out search-and-rescue operations," a Defence Ministry spokesman said, citing international law.
Ayoub Qassem, a Libyan coastguard spokesman, said he did not have details of the plan, but both sides recognised the need to cooperate in tackling irregular migration.
"Recently the Italian side has been eager to cooperate with Libya because it's more effective than working without Libya — that's natural," he said.
Italy has supplied Libya with four refurbished vessels so far, and six more have been promised, while the EU has trained about 220 Libyan coastguards. 
Copyright Ships & Ports Ltd. Permission to use quotations from this article is granted subject to appropriate credit given to www.shipsandports.com.ng as the source.