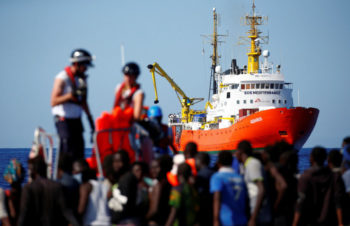 Italy's Interior Minister, Matteo Salvini, announced Friday that Italian ports would be closed "all summer" to NGO ships which rescue migrants trying to cross the Mediterranean from Africa to Europe.
"The NGOs will only see Italy on a postcard," quipped Salvini, who is also the new deputy prime minister and head of the far-right League party.
"The ports will be closed all summer," he said on Italian radio.
Salvini added that the ban would concern not only access to ports but also "the furnishing of fuel to the NGOs."
"As the Italian military tells me as well as the Libyans, the NGOs help traffickers, consciously or not," said Salvini.
But he stressed that Italy with other states "would continue to save all those who need to be saved."
Salvini's comments come on the day that a European Union summit reached a deal on migration after Italy had threatened to scupper it if its demands for help were not met.
"Finally Europe has been forced to accept the argument of Italy's proposal," Salvini commented, noting that past Italian governments had been ignored by Brussels.
"Our numerous demands have been accepted. Italy is coming out of its isolation and playing a new role."
Agency Report