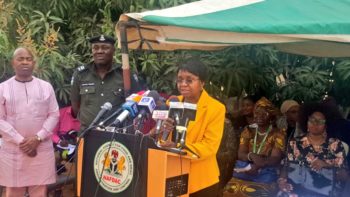 The National Agency for Food and Drug Administration and Control (NAFDAC) on Friday destroyed N3.5 billion worth of impounded drugs and other products.
The agency described the seizures as the largest in recent times.
The destroyed drugs included Tramadol, Codeine, counterfeit medicines and illegally imported unwholesome sugar.
The Director-General of NAFDAC, Prof. Moji Adeyeye was joined by the First Lady of Ogun State, Dr Olufunsho Amosun and officials of the Ogun state government as well as other stakeholders including NDLEA, Police and DSS to destroy the items at a dump site in Shagamu, Ogun state.
While only 50m and 100mg of Tramadol are approved for use in Nigeria, Adeyeye said most of the ones seized were far above the approved range including 250 and 500mg.
She said, "The banned strengths have deleterious effects on vital organs of the body including the brain."
Adeyeye disclosed that 13 containers of banned and unregistered Tramadol and Diclofenac released to the agency by the Nigerian Customs Service (NCS) were destroyed.
She noted that investigation has shown that there is a cartel specializing in importation of this banned Tramadol into the country, saying all hands must be on deck to stop those behind the cartel.
The NAFDAC boss, however, called for quick amendment of the NAFDAC laws to prescribe stiffer penalty for peddlers of the banned drugs.
Also destroyed were consignments of smuggled Brazilian sugar worth over N100m which was rebranded by one businesswoman in a popular Lagos market.
First Lady of Ogun state, Commissioner for Health, Dr Babatunde Ipaiye and his Environment Counterpart, Bolaji Oyeleye commended NAFDAC for its proactiveness and diligence which resorted in the massive seizures.