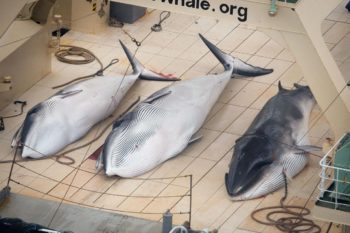 The Japanese whaling fleet has reached its self-allocated quota of killing 333 minke whales in the Southern Ocean as part of the country's latest "research mission," the marine conservation organization Sea Shepherd informed.
Japan reached its goal "despite our efforts to once again disrupt the slaughter of whales," Sea Shepherd said, adding that the organization has called an emergency meeting of the Global Board of Directors in Amsterdam this weekend to review its whale defense strategy in the Southern Ocean.
Sea Shepherd earlier informed that the whale poachers expanded their killing fields to twice as big as before, and as a result, the organization's patrol vessels "were searching for a handful of trucks in an area twice as big as Australia."
"We were aware of the challenges from the outset of the campaign – the doubling of the whaling area and the reduced quota that would be easier to reach – but we did our best despite the odds because it was the right thing to do. And – as usual – we did it alone. It is a reminder that the needless slaughter of marine life will continue unless governments stop making hollow statements of disapproval and start taking action to hold Japan accountable," Sea Shepherd said.
In early December 2016, the patrol vessels Steve Irwin and Ocean Warrior started their voyage to the Southern Ocean as part of the 11th Antarctic whale defense campaign, Operation Nemesis, in an effort to intercept the Japanese whaling fleet and stop the slaughter of minke whales.
On December 22, the Ocean Warrior intercepted the Nisshin Maru, one of the harpoon ships of the Japanese whale-poaching fleet in the Australian Whale Sanctuary, with a dead minke whale on the vessel's deck.
The images of the dead whale on the deck of the Nisshin Maru were the first which document the Japanese whaling fleet's killing of whales since the International Court of Justice (ICJ) ruled their whaling program illegal in 2014 and the Australian Federal Court found the Japanese whaling industry in contempt for killing protected whales in the Australian Whale Sanctuary.
Prior to the launch of the whaling season in 2015, Japan's Ministry of Foreign Affairs said that the country plans to catch up to 333 minke whales on an annual basis in the following 12 years.
Copyright Ships & Ports Ltd. Permission to use quotations from this article is granted subject to appropriate credit given to www.shipsandports.com.ng as the source.