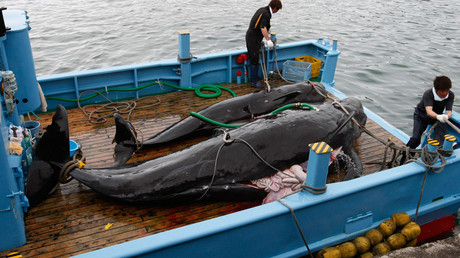 Japan started a new "research mission" in the Southern Ocean as the country sent its fleet to continue whaling operations in the area on November 9.
The fleet departed from the port of Shimonoseki, Yamaguchi Prefecture, on a mission to catch 333 minke whales through March 2018. Japan's Institute of Cetacean Research informed that it will collect scientific data necessary to manage whale stocks and the ecosystem in the Antarctic.
New Zealand's Foreign Minister Winston Peters informed that Japan's decision to continue whaling in the Southern Ocean "is out of step with international opinion and defies scientific advice."
"Japan's decision to conduct whaling in the Southern Ocean flies in the face of the clear recommendations of the International Whaling Commission, its Scientific Committee and its expert panels," Peters said.
"Put simply, Japan can achieve its stated research objectives without killing whales. This is an outdated practice and needs to stop," Peters added.
Earlier this year, the marine conservation organization Sea Shepherd informed that it decided to stop deploying ships to fight against Japan's whaling efforts. The decision was made on the back Japan's move to employ military surveillance to watch Sea Shepherd ship movements in real time by satellite in order to avoid the organization's vessels.
"During Operation Nemesis, the Sea Shepherd ships did get close and our helicopter even managed to get evidence of their illegal whaling operations but we could not physically close the gap. We cannot compete with their military grade technology," Sea Shepherd said.
Additionally, Japanese authorities escalated their resistance this year with the passing of new anti-terrorism laws, and might even send their military to defend their illegal whaling activities for the first time ever.
The latest mission is the third one launched since the International Court of Justice (ICJ) in The Hague, Netherlands, ruled against the whaling practice in 2014. According to the ruling, Japan's whaling program was not scientific in nature but more commercial, as the meat of the slaughtered whales was being sold commercially in Japan.
The country then submitted a revamped plan through which it said it would send its whaling fleet to the Antarctic Ocean to catch up to 333 minke whales on annual basis in a 12-year period, instead of the previously targeted 1,000 whales. 
Copyright Ships & Ports Ltd. Permission to use quotations from this article is granted subject to appropriate credit given to www.shipsandports.com.ng as the source.