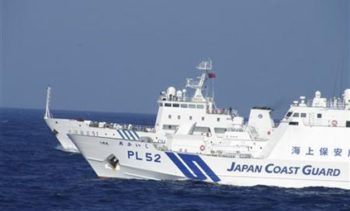 By Jite Eriabie 
Japan's coast guard on Thursday boarded a North Korean fishing boat near a Japanese island where the crew said they had taken shelter from rough seas, the latest in a series of North Korean vessels in distress drifting into Japanese waters.
The wooden boat was towed nearer the northern island of Hokkaido for inspection, a coast guard spokesman said. Authorities had yet to decide what to do with the vessel and the ten fishermen on board.
"At this point, it is still too early to say what we will do," he said.
Experts say food shortages may be driving fishermen to risk taking their small boats to more dangerous waters closer to Japan. The encounters have attracted greater attention amid tension in the region over North Korea's weapons programs and its latest missile test on Wednesday.
There has been no suggestion that the fishermen may be defectors from the impoverished, tightly controlled country, which has fired two missiles over Japan in recent tests and regularly threatens to destroy the United States.
On Monday, eight bodies believed to be of North Koreans, which had been partly reduced to skeletons, were found in a small wooden ship washed up on a beach on Japan's northwest coast. Two other bodies were found at the weekend on the western shore of the Sea of Japan island of Sado, with life jackets displaying Korean lettering.
Last week, police in northern Japan found eight North Korean men who said they landed after claiming their vessel had lost power and run into trouble.
On Thursday, the coast guard issued an advisory to shipping about a half-sunken wooden boat floating in waters close to Sado.
Copyright Ships & Ports Ltd. Permission to use quotations from this article is granted subject to appropriate credit given to www.shipsandports.com.ng as the source.