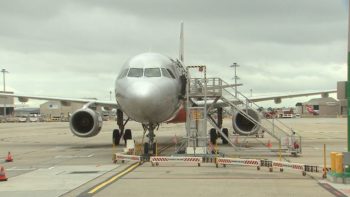 A yet to be identified man has been banned from all Qantas and Jetstar flights, for trying to force open the door of a Jetstar plane at Melbourne Airport.
The alleged passenger was supposed to catch a 9.30am flight to Adelaide and missed it.
When he was informed by the Jetstar crew, witnesses said the man lost it, pushing crew at a gate out of the way, running onto the tarmac, up the stairs to the plane before trying to bust open the plane door.
And it wasn't even the right flight. He had tried to board a plane to Sydney.
Two cabin crew members, who were assaulted in the process, managed to restrain him until police arrived.
Following the incident, the man was banned from all Qantas and Jetstar flights for the time being and, depending on how the police investigation pans out, faces being excluded from both airlines for life.
One witness, Susannah Murray, told Nine News how she saw the man "physically fighting with the staff".
A man was arrested at Melbourne Airport on Thursday after he ran across the tarmac then tried to rip open the door of a Jetstar plane.
"We were sitting waiting to get on the flight and people went, 'Oh my God, what is going on?'" Murray said.
"Someone was running on the tarmac. This man was trying to get up the stairs, he was physically fighting with the staff, punching and scratching them."
Murray said the man was initially restrained by staff but managed to free himself and reached the door of the plane.
"At some point he got away from them," she said.
"The federal police showed up five minutes later and walked him out."
Jetstar confirmed the passenger assaulted its crew and breached security access to the tarmac before staff restrained him about 9.30am.
A Jetstar spokesperson praised its crew for their handling of the debacle.
"This behaviour is unacceptable and we have placed an immediate ban on this passenger travelling on all Jetstar and Qantas flights."
The Sydney plane, which the spokesperson said wasn't damaged, was delayed for about an hour and a half while Jetstar found two crew members to replace the injured employees.
AFP said officers have taken the man into custody but charges are yet to be laid.
Agency Report