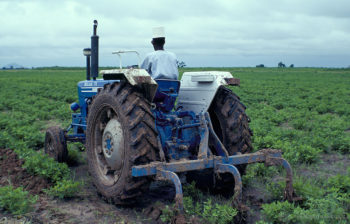 The Jigawa Government on Tuesday said it had taken delivery of four containers with several agriculture implements from China.
The General Manager, Jigawa Agricultural Supply Company (JASCO), Alhaji Hassan Idris, disclosed this while briefing newsmen on the arrival of the implements.
Idris said that the customised implements were produced specifically for the JASCO.
He explained that the items included 4,250 Sprayers (16 liters), 846 Water Pumps (6.5 Horse Power) and 542 Planters (Single and Double Row).
The general manager said that other consignments of 40 Water Pumps (6 inches), 790 rolls of Hose, 136 Rice Thrashers, 150 Rice Milling Machines and four 65 Horse Power Tractors would soon arrive in the state.
According to him, the items will be sold to farmers at an affordable prices.
Idris said the gesture was part of the state government's effort to improve agricultural production among farmers in the state.
He said that it was also to encourage the use of modern farming implements among farmers for high yields.
Idris, however, declined to comment on the cost of the items, saying that "they are produced by different companies, so we shall wait until the rest arrive, then we calculate and give the exact amount".
According to him, the agency would soon send an information memo to Gov. Badaru for his further directive on how the items would be sold to the farmers.