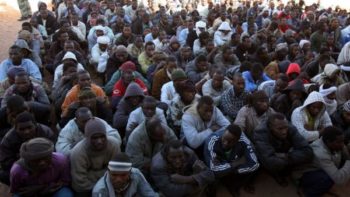 The Nigeria Immigration Service (NIS), Cross River Command, says it has repatriated no fewer than 792 illegal immigrants to their countries and rescued 65 trafficked victims in the state in 2016.
The State Comptroller of NIS, Funke Adeuyi, said this when when the Country Representative of the United Nations Office on Drugs and Crime (UNODC), Cristina Albertin, paid her courtesy visit in Calabar on Tuesday.
Adeuyi told Albertin that the illegal immigrants were arrested at different border posts across the state.
She said that the command did a thorough profiling of the said immigrants and found them lacking valid travel document to enter Nigeria.
The comptroller also said that during the period under review 55 illegal immigrants were denied entry into Nigeria at different border posts across the state.
She said, "Between January and December 2016, we repatriated 792 illegal immigrants to their countries while 65 victims of traffick were rescued at different border posts in the state.
"During the same period, 55 illegal immigrants were refused entry into Nigeria for lack of valid travel documents and other related reasons.
"Due to the contiguous nature of borders (land and marine) between Nigeria and neighbouring countries, we have challenges of illegal immigrants coming in through irregular border lines outside regular control posts.
"We will, however, continue to police the borders to curb illegal migration, child theft and trafficking and other heinous crimes in the state.
"The UNODC is one of the partners of the NIS and we believe we can work together in the area of workshops and public enlightenment."
Adeuyi said that the command would sensitise transporters, boat owners and local communities to enable them see the ills of child trafficking and child labour among others issues.
The NIS boss attributed the success of the command's activities in the state to the sustained efforts of the Comptroller- General of Immigration,  Muhammed Babandede.
The comptroller said Muhammed had provided the command with the necessary tools to fight trans-border crimes.
Responding, Albertin said UNODC had collaborated greatly with the NIS in capacity building of immigration personnel and donation of border equipment.
Albertin, who lauded the successes recorded by the command in 2016, said her visit was to strengthen existing relationship between NIS and UNODC and find areas that required further assistance.
"The UNODC and NIS have outstanding relationship. I am here to further strengthen that relationship.
"We will continue to support NIS in its efforts to combat child trafficking and child labour in Nigeria," she said.