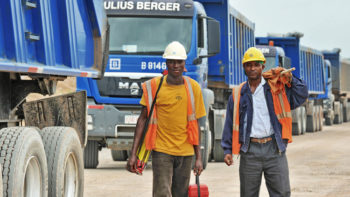 Julius Berger Nigeria Plc stated its intention of diversifying into oil and gas industry. In a notice sent to the Nigerian Stock Exchange (NSE) by the company which was signed by the company secretary,  Cecilia Madueke, stated Julius Berger Nigeria intention of going into partnership with Petralon energy an oil and gas firm with intention to develop oil fields.
The company said that it would provide further details to the capital market community as the transaction progress.
Analysts noted that for the construction firm, the move is a strategic one as competition from Chinese firms have made the construction industry less attractive.
They also noted that the federal government in September 2016 signed a $5.1 billion contract with the China Civil Engineering Construction Corporation (CCECC) for construction and rehabilitation of railway lines across the country.
"The Chinese firms can get cheap financing from their home country at single digit interest rates, and can also go ahead without waiting for mobilization. Excess capacity in China, means labour and equipment are available at a cheap price."
The federal government currently owes contractors including Julius Berger, billions of naira, and these loans have hampered their operations.
The recession has also made the private sector to cut back on construction activities, and many real estate developments have seen a drop-in occupancy rates.
Petralon energy began operations on its first oil field in partnership with Tako E&P Solution in 2014.
Julius Berger was established in 1950 and is one of Nigeria's oldest construction companies.