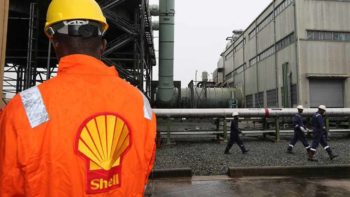 Nigeria's oldest energy company, Shell, has said it is reviewing its Nigeria strategy but that it does not involve quitting the country.
The Country Chair of Shell Companies in Nigeria, Osagie Okunbor, said in a video post from Lagos, that Shell was in Nigeria to stay and wanted to continue, "to play this role well into the future."
Royal Dutch Shell had in 2016 said it would end its operations in 10 countries and sell 10 per cent of its production as part of a $30bn asset sale plan by 2018.
Shell currently has its operations in more than 70 countries; including Nigeria where it operates joint ventures with the Nigerian National Petroleum Corporation (NNPC), but said it wanted to focus on 13 nations. It did not say which countries it might exit but affirmed it was not considering leaving Nigeria.
Okunbor said the company was on the verge of taking final investment decision (FID) on the Asa 300 million cubic feet gas project in the Niger Delta town of Brass with General Electric (GE).
He added that the Trans Niger Pipeline (TNP) was expected to resume operations in a couple of weeks. Shell had earlier in the month declared Force Majeure on Bonny Light Crude after the TNP suffered a leak when unknown persons drilled a hole in it.
The Shell boss lamented that even though the country witnessed some reduction in crude theft between 2015 and 2016, "it is still at unsustainable levels."