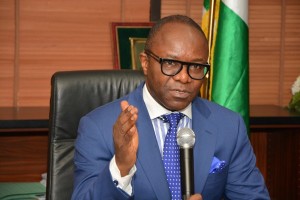 The Minister of State for Petroleum Resources, Ibe Kachikwu, says the growth of the economy solely depends on mobilizing and applying human, natural and financial resources.
Kachikwu said this in a presentation at the ongoing 9th Annual Forum of Laureates of the Nigerian National order of merit (NNOM) in Abuja on Wednesday.
The paper is titled "Structures and Processes of Nigeria Mono Economy".
He said that Nigeria's challenge was as a result of not diversifying its natural resources base for a useful result.
Kachikwu said that the country's economy would attain a great height of development if the economy was diversified and the mono-product economy practice was jettisoned.
He said that that structures and processes should be made for the implementation of national economic survival in the quest to diversify the revenue base of the nation.
"Oil has been the world's major commercial energy source for decades and the consensus is that it will maintain this leading role in the foreseeable future.
"Oil and gas contribute over 90 percent of our foreign exchange earnings and over 80 per cent of government revenue.
"However, energy as a commodity traded contributes only about 8.26 per cent to the GDP as at the second quarter of 2016.
"What this means is that Nigeria's quest for economic development is at a faster pace than the current GDP growth rate.
"But natural resources as a means of developing the domestic economy still hold greater promise.
"Government's focus has since shifted towards enabling polices and initiatives that will jump-start an accelerated pace of development in the country," he said.
Kachikwu said that substantial efforts were being made at ensuring conducive investment climate in the oil and gas industry that would attract more investments and generate employment opportunities in the sector.
He said that President Muhammadu Buhari was committed to driving the change in the oil and gas industry.
The minister said that the President, a few weeks ago, launched a practical and well-reasoned Petroleum Industry Roadmap tagged "7 Big Wins for the new Nigerian Petroleum Industry".
He said that roadmap was to create new businesses, new income schemes and millions of new well-paying jobs.
"For a country that lost so much in recent years, this is an opportunity to build and revive our oil and gas industry, strengthen other sectors, diversify and build our nation as a whole".
Copyright Ships & Ports Ltd. Permission to use quotations from this article is granted subject to appropriate credit given to www.shipsandports.com.ng as the source.