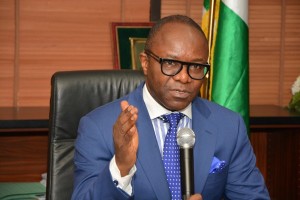 The Minister of State for Petroleum, Ibe Kachikwu, says oil exploration in the North-east is for the good of the nation.
Kachikwu said this during "Overview of 2018 Budget Proposal" in Abuja on Tuesday.
He added that "we have an obligation as a nation to continue to ensure that we follow through any part of the country with visible sign of oil at all.
"This does not stop the fact that massive exploration activities will continue in oil producing areas.
"We discover oil every day and we explore it and if we calculate the overall oil revenue projection for 2018, it is almost 60 per cent, so we need to expand the frontiers of oil anywhere we find it in the country."
The minister however, said his philosophy was that it should not be only the Nigerian National Petroleum Corporation (NNPC), that should explore oil in the North-east.
He said the federal government was trying to encourage the private sector to use resources to explore oil by coming up with policies and incentives that would open up the frontiers for them to operate.