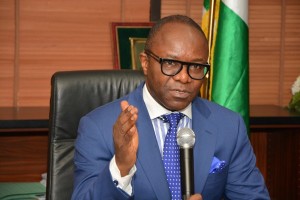 The Minister of State for Petroleum Resources, Dr Ibe Kachikwu has said the nation's refineries produce only 22 per cent of the daily national premium motor spirit (PMS) requirements.
The Minister who spoke yesterday in Abuja noted that the poor production from the refineries accounted for the huge cost of importation of petrol in 2016 approximated at N3.35trillion, adding that it is this reason that government wants private sector entrepreneurs to fix the refineries and make the country exit importation and subsidy payment by 2019.
Kachikwu said: "The Federal Government made an approximated 20 metric tons of importation of petroleum products valued at about N3.35trillion last year (January to December, 2016). As a result of this we are trying to make the refineries work at full 100 per cent nameplate capacity.
"Currently, national average refining output is at six million litres daily as against daily consumption of 35 million litres of PMS (petrol) reflecting an output of 22-24 per cent.
"Also close to 30 per cent of foreign exchange allocation given by the Central Bank of Nigeria (CBN) goes to the petroleum sector imports, which is a huge drain on the nation's foreign exchange. Current reality is that the Nigerian National Petroleum Corporation (NNPC) takes responsibility as the last resort importer takes upfront payment of subsidy to do this and there is a huge amount of job losses that arise when refineries are not utilized.
"What we are doing is to target cease of importation of petroleum products by 2019 and get advantage in terms of foreign exchange conservation, job creation, stability of market in terms of price and production. We want to transit from an OPEC member that imports to local processing hence we seek financing to repair the refineries."