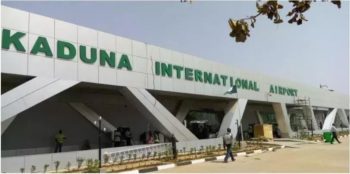 In what appears a response to the concern raised last week by the House of Representatives on the state of the Kaduna International Airport, the Federal Airports Authority of Nigeria (FAAN) has said the facilities at the airport are in proper condition.
Acting General Manager, Safety Services of FAAN, Elifue Agbi gave the clarification in a statement after inspecting the Airport.
According to him, operations at the airport have been smooth since traffic was diverted from the Nnamdi Azikiwe International Airport (NAIA).
It would be recalled that the House had mandated its committee on Aviation to investigate activities at the airport after members observed that practices at the airport were not in compliance with standards.
The resolution followed the adoption of a motion entitled "Need to Review and Ensure that Kaduna International Airport Complies with Operational and Safety Requirements as Contained in Prescribed Aerodrome Standard of Nigeria Civil Aviation Acts and Regulation''.
However, the FAAN senior official said: "The operations at the airport since the diversion of traffic from Abuja airport has been smooth. To move traffic to this place, we decided that the airport should be upgraded and the upgrade was done. We make sure that the Instrument Landing System are working, the runway and apron clearly marked. These are the things that help in the landing and taking-off of aircraft."
According to him, the perimeter fence at the airport is also in good shape."The perimeter fence is to help in securing airside and the properties therein. It is part of our defense and it is done", he said.
On claim that aircraft on the tarmac are not properly fuelled, he said,"You cannot just bring nozzle and start fueling. Aircraft have different types of inlets and they are special nozzles. The nozzles are very expensive and fitted to the bowser. No airline will allow its airliner to be fueled in a terrible way because of the safety concern. Notwithstanding,when we read the report we decided to carry out our investigation. we went to Conoil, SITA and Cleanserve and they have the facilities."
Acting General Manager, Corporate Communications FAAN Henrietta Yakubu said NCAA approved the airport before operations commenced.
"If proper things are not in place, NCAA would not have allowed the operations. NCAA came and looked at everything we have done and they agreed that we are good to go. Everything was done to ensure that we meet ICAO standard.
"What passengers complained about initially were the Automated Teller Machines (ATM), but now, we have a row of ATMs. And also, Federal Government has been magnanimous enough to provide free busses and train that convey passengers free of charge. During the peak period which is mostly in the morning, the Aviation Security (AVSEC) personnel are on ground to handle that."