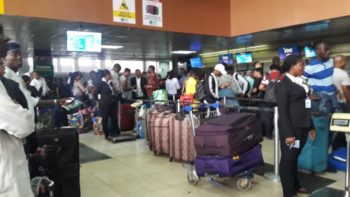 The Federal Airports Authority of Nigeria (FAAN) has said that notwithstanding the Executive order signed by the Acting President, Yemi Osinbajo last month and subsequent upgrading of scanners at Murtala Mohammed International Airport, Lagos, manual checks will still be utilised, although at skeletal level.
FAAN acting general manager corporate affairs, Henrietta Yakubu, said manual checks cannot not be completely done away with arguing that some countries do 20 per cent manual screening while some others do 10 per cent.
"Where you suspect anything, you can check manually; where there is need for a luggage to be checked manually, it has to be done in the baggage hall, but not in public," she noted.
She explained while scanners play vital role in checks, there are moments that will require manual checks and such checks does not require scanners.
Last week, FAAN carried out a test-run on an upgraded baggage scanner machine that could detect explosives, narcotics and other prohibited items at the Murtala Muhammed International Airport, Lagos.
The Managing Director, Saleh Dunoma while speaking at the event said it was aimed at boosting safety and security at the airport.
Dunoma said that the interest of FAAN was to make sure the airports are safe and secure, protect lives and provide machines of immense benefits to airlines and all stakeholders.
FAAN began to implement the Executive Order by first removing the multiple physical check tables as well as desks hitherto belonging to security agencies at the international wing of the Murtala Muhammed Airport.
The agencies operating at the airport include the Nigeria Customs Service (NCS), Nigeria Immigration Service (NIS), National Drug Law Enforcement Agency (NDLEA), Department of State Security (DSS), Nigeria Police Force (NPF), Port Health Service, and the Nigerian Agricultural Quarantine Service (NAQS) and FAAN aviation security.
And to bring sanity to the airports, FAAN listed the six agencies approved to interface with passengers at the country's airports. The agencies are NIS, NCS, NDLEA, SSS, Explosive Ordinance Disposal Unit (EOD) and NAQS.
"As a result, the Authority has reconfigured the affected agencies' orientation at the airports as follows: NIS and NDLEA will now operate at arrival and departure halls; NCS will operate at the arrival hall only; the SSS and NAQS will operate at the cargo terminals only, while the EOD will be operating at the baggage hall.