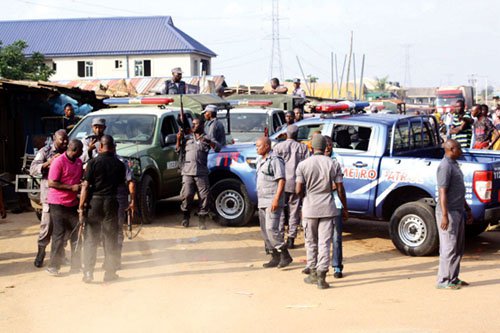 How and why Customs have rapidly intensified their recklessness in the past few months has remained a major mystery to be unravelled. On a continuous basis, Customs officers have been fingered in series of stray bullet incidents in the name of fighting smuggling, especially in Lagos and Ogun states. It is gradually becoming a monthly occurrence now. From Abule-Egba to Mushin, and Badagry to Abeokuta, the story has been the same. Innocent lives have been sent to early grave due to this raging wildness by officers of Nigerian Customs Service. Even officers of the service have not been spared in this unfortunate trend. Just when we thought the leaders would devise new strategy to stem the growing public outcry and resentment, the most unprecedented barbaric event happened. This time in Ilara, a border town between Nigeria and Benin Republic, in Imeko-Afon Local Government Area of Ogun state, Customs officials reportedly invaded the community to impound bags of rice that were allegedly being moved from the town into the city. The encounter led to the untimely death of at least four people with many others injured. Whilst Customs admitted that there was an incident, there has been no direct acknowledgement of fatality due to the clash.
Now whether Customs invaded the community or officers were confronted by smugglers as the force would want us to believe, the conclusion is simple and straight – Customs have disappointed us yet again. It is worrisome that we are beginning to normalise loss of lives caused by the insensitivity of those that should be protecting us. Why should we constantly lose human lives because a security agency of the government is bent on discharging its mandate in the most unprofessional manner? Why must we continually have collateral damage when we are not in a state of war? Even military officers that are trained for war are not allowed to pounce on civilians using Gestapo tactics as this.
What's more, there are other dimensions to the recent event. Reports have it that Customs officers actually crossed the Nigerian border into Benin Republic to impound goods stored in a warehouse in the country. But for the maturity displayed by the security forces of Benin, there would have been a major international conflict. If there is any iota of truth in this account, then we are dealing with a high level of indiscipline and carelessness in our Customs Service. The more worrisome part is how we carry on as if nothing has happened. The latest event is coming just a month after Customs officer's stray bullet hit a primary six pupil in Katsina State. This is happening repeatedly and the Customs leadership appears practically unbothered. No conclusive and consequential investigation has been carried on any of these incidents that have involved loss of innocent lives. Yet Customs want us to believe they are only carrying out their duty in line with the mandate of the government to curb smuggling. How many people will be killed because the mandate of the government is to reduce smuggling to the barest minimum and the agency in charge of implementing the strategy feels it is normal to deploy lethal force in civilian environment? This inattention leaves one to wonder if recklessness is the new norm among Customs officers.
Whilst we appreciate the commitment and effort to fight smuggling to a halt in Nigeria, we believe the fight can be won without cutting short lives of young and harmless Nigerians. The Comptroller-General of Customs needs to take urgent steps to curb this nuisance. It is clear that many of the officers are not adequately trained in firearms handling, neither are they educated on how to operate in a civilian environment in a modern world. This is probably the time to evaluate the effectiveness of the strike force that was set up last year with a mandate to curb smuggling by using unusual strategy. Perhaps their unusual strategy has added to this rising barbarism. Similarly, we call on the national assembly and presidency to prevail on Customs leadership to do the right by deploying modern technology and intelligence in the fight against smuggling in Nigeria. And if we must be truthful with ourselves, fighting smuggling in Nigeria requires more of intelligence gathering than use of lethal force. It is an open secret that smuggling is fuelled by a cartel of strong personalities in the country. The boys on the field perpetrating the act are only errand boys. If we must fight smuggling at its core, then Customs must improve on intelligence gathering by working concertedly with the people. But how do you earn the trust of the people when you are constantly gunning down their innocent children? We can no longer pretend as if all is well.
Copyright Ships & Ports Ltd. Permission to use quotations from this article is granted subject to appropriate credit given to www.shipsandports.com.ng as the source.