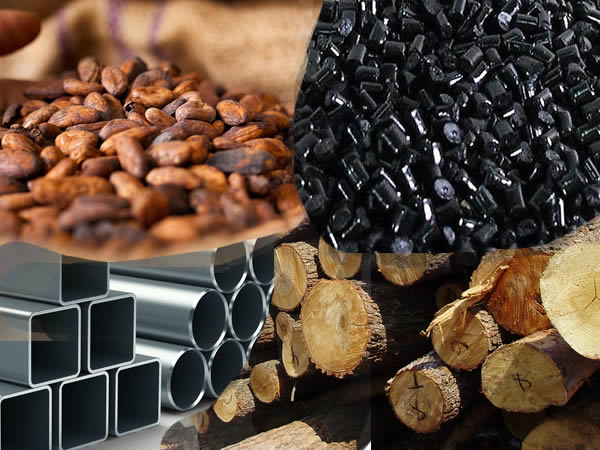 Nations are built on the strength of their population, natural endowments and the ingenuity of the people. Some nations have learnt to borrow practices and innovations from other countries to grow their economy, albeit with strong inclusion of local inventiveness. Japan and other developed countries among the Asian Tigers are typical examples of this notion. There is no better way to grow a country than to use the resources available within the country, or at best restrict dependence on foreign supply of raw materials to a reasonable level. This is one of the reasons why China has suddenly become an emerging hub of innovation and manufacturing in the world. The country has succeeded in maximising the blessing of a huge population vis-à-vis the available natural resources. Today, China is perhaps the cheapest place to produce many products. Not only is the country a top manufacturing, it also supplies over 90 percent of rare earth products on the global market.Raw materials – chemicals such as yttrium, which is used in TVs, or lanthanum, used for camera lenses – for the modern tools we use everyday are supplied by China. In spite of their endowments, it is instructive to note that many of the industrialised countries do not have enormous resources as the underdeveloped countries.
A typical example is Nigeria; a country that is blessed with massive natural resources. The country is awash witha variety of natural resources from precious metals stones to industrial materials such as Barites, Gypsum, Kaolin and Marble that can be used for industrialisation. There is no state in Nigeria that does not possess a minimum of four major natural resources in abundance. It is estimated that about one billion tonnes of gypsum deposits are spread over many states in Nigeria. Gypsum is a major input for the production of cement, Plaster of Paris (P.O.P) and classroom chalks. It is plausible to conclude thatNigeria should be a top producer of cement worldwide based on the amount of Gypsum in the country. Let's talk about iron ore.  Over 3 billion metric tonnes of iron ore deposits have been found in Kogi, Enugu, Niger States and the Federal Capital Territory. We really should not have any business importing iron products considering the deposits of iron in the country. For coal, there are nearly 3 billion tonnes of reserves in 17 identified coal fields and over 600 million tonnes of proven reserves across the country. There is really no point explicating on the oil and gas reserves in the country, which perhaps is responsible for the underdevelopment of other resources in the country.
As a result of this neglect for our natural endowments and the underutilisation that has followed in the past years, Nigerian manufacturers have mostly depended on importation of raw materials for their businesses. It is inexcusable that many of the raw materials that are imported can actually be produced in Nigeria. It was this reality that led to the establishment of theRaw Materials Research and Development Council (RMRDC), which was set up as a response to the recommendations of workshop on industrial matters organised by the then Federal Ministry of Industry, Manufacturers association of Nigeria (MAN) and the Nigeria Institute of Social and Economic Research (NISER) in July, 1983 to address challenges of industrialisation in the country. RMRDC was established by the RMRDC Act, initially promulgated into law by Decree 39 of 1987 and presently cited as RMRDC Act, CAP R.3 Laws of the Federation of Nigeria, 2004. The primary mission of the council is to promote the development and optimal utilisation of Nigeria's natural resources for growth by providing information that would enable government formulate appropriate policies for domestic raw materials exploitation, development, utilisation and investment. The council is also expected, through its activities, to reduce the dependence and expenditure on raw material imports; conserve foreign exchange, increase productivity, increase capacity utilisation, contribute to sustainable industrial growth and development. Similarly, it is meant to serve the interests of the private sector by facilitating the sourcing, development, and utilisation of domestic raw materials in manufacturing. Essentially, the council is Nigeria's focal point for the development and utilization of the nation's vast industrial raw materials resources, thus facilitating the establishment of new resource-based industries which in turn provide new job opportunities and contribute to the nation's Gross Domestic Product (GDP).
The foregoing shows that the problem has not been the unavailability of natural resources, neither has it been the absence of a government agency saddled with research and promotion of raw materials in addition to the intended purpose of the many universities in the country. The problem has always been the capacity of these institutions to carry out the mandates that have been conferred on them.
However, things appear to be taking a positive dimension in recent years. A recent report by the Manufacturing Association of Nigeria indicates that utilisation of local raw materials in Nigeria is on the rise. The survey conducted by MAN shows that local raw-materials utilization in the manufacturing sector was 40.77% in 2015; increased to 53.14% in 2016; and further to 63.21% in 2017. This has been attributed to the backward integration policy of government which is aimed at empowering local manufacturing using local raw materials. The recent growth is indicative of implementation of positive and good policies. Nevertheless, it is more important to develop a framework that supports the sustenance of this improvement in local capacity utilisation. The utilisation of raw materials and industrialisation of any country cannot be separated from its commitment to research and development and its research capacity. Consistently, Nigeria has failed to meet the minimum United Nations requirement in education funding in the country. And many of our universities allocate more money to administrative expenses than they do to research and development. It is difficult for a researcher to obtain grant for research in Nigeria and many of our doctoral students pay through their nose to conduct research that are aimed at developing the country. Little wonder that no Nigerian university could make it to the top 600 in the Times Higher Education World University Rankings 2018.
To increase raw materials utilisation and sustain the current growth demands that we reappraise our disposition to research funding in Nigeria. The success of the backward integration policy is largely dependent on our capacity to innovatively improve on the possibilities presented by the natural resources available, and this can only be driven by our research institutions. The current growth being experienced in raw materials utilisation is positive and encouraging; however, Nigeria still losses a lot to raw materials importation. According to the RMRDC, Nigeria spent N19.5 trillion importing raw materials in seven year from year 2000 to 2016. Within that period, the country spent N2.79 trillion on the average every year on importation of raw materials and in 2016 alone, the country spent N5.89 trillion. It is unimaginable what N19.5 trillion could accomplish in the country if we change the tide.
Apart from empowering local research capacity of universities and other research institutes, the government at federal and state levels need to provide support for the RMRDC for greater efficiency. Similarly the council also needs to intensify its awareness and exhibition to attract investment in the production of local raw materials. Activities such as the Nigeria Raw Material Expo (NIRAM) and the Nigeria Manufacturing & Equipment Expo (NME) are positive developments that must be sustained and supported by the government. The RMRDC should further support local producers of raw materials to help them create usable and superior quality materials for utilisation. Some manufacturers prefer to import raw materials because of superior quality. This is where research and innovation comes to play. However, it is not enough to research; it is important to translate findings from research into production to ensure a strong nexus between research and utilisation. Many research endeavours in Nigeria have ended in the libraries of academic institutions with no impact on manufacturing and industrialisation.
Ultimately, the government needs to extend local content policy to cover raw materials utilisation and this must be done in a sustainable manner. There is no benefit in promoting investment in the provision of raw materials, especially amongst the young entrepreneurs if there is no sustainable market. For instance, the last administration advocated for the use of cassava flour for bread. Today, all the advocacy for cassava production has simply been buried leaving cassava farmers to deal with over production and lack for demand for their products. We are the largest producers of cassava in the world; yet there is no commensurate demand for what we produce and local bakers still import flour for production.
There is no gainsaying that if we get our acts right, Nigeria has been divinely designed for industrialisation. We have the natural resources, population, climate and capacity. But we lack the commitment, structure, and enduring strategy to galvanise the resources available to us.