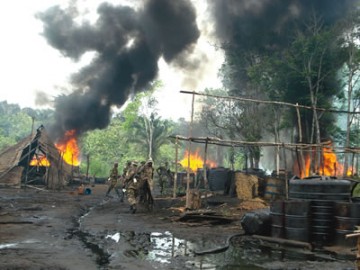 Scores of local operators, formerly referred to as illegal refiners, have commended the Acting President, Prof. Yemi Osinbajo, for the proposed liberalisation of modular refineries in the Niger Delta.
They said in a letter to the Acting President that though the liberalisation of modular refineries was commendable, politicians should not be allowed to hijack the policy.
The local operators, drawn from the states in the region under the aegis of Izon-Ibie Modular Refinery Association (IMRA), noted that the proposed policy would encourage local participation, massive employment of youths and increased production of petroleum products for the country.
The IMRA contended that the success of the proposed modular refinery would be dependent on the openness of the policy and that it should not be politicised as that would be counter-productive.
The group said, "Those of us in the business at the local level are aware of the negative impact politicisation of the policy would have on the overall interest of the country and the people of region.
"It will be easier to train local operators for the pilot scheme and we shall be more than willing to work with the government to showcase our skills.
"We want to commend the administration of President Muhammadu Buhari and the Acting President, Prof. Yemi Osinbajo for the series of recent firsts in the attempts to put in place sustainable peace, development and local participation of youths and other stakeholders in the region."
"It is on record that the recent visits and interaction between the Acting President and the stakeholders in Delta, Bayelsa and Rivers states have opened positive tidings to the people of the region, and in particular, the local refinery operators.
"The visits have also led to the unveiling of the 20-point agenda aimed at instituting permanent peace in the oil-producing communities through proper local participation in ownership and production of crude oil.
"For us in the region, the declaration by Acting President, Yemi Osinbajo and the Minister of State for Petroleum Resources, Dr. Ibe Kachukwu, on the proposed coordination of the perceived 'illegal'refinery operators into owners of modular refineries in the Niger Delta is commendable and welcome."
The group said the Federal Government's visits had led to the inauguration a $50m modular refinery at Ikwe-Onna Refinery with a 5000 barrel per day capacity in Ikwe village of Onna Local Government area of Akwa Ibom State.