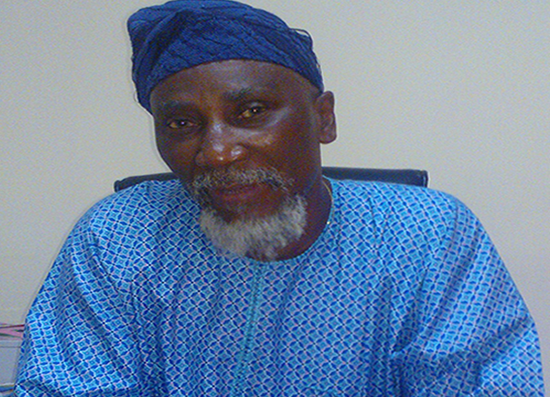 Strong indications emerged yesterday that executive members of Nigerian Shipowners Association (NISA) may ask their President, Navy Capt. Niyi Labinjo (rtd) to step aside to pave way for full investigation into his alleged role in a messy ship acquisition deal with an indigenous shipping firm, Acenk Maritime & Energy Services Limited.
SHIPS & PORTS DAILY had reported exclusively yesterday that Mrs. Adenike Jolapamo-Onifade, daughter of the founder and immediate past Chairman of NISA, Chief Isaac Jolapamo, had accused Labinjo and his wife, Bola of allegedly diverting part of a USD5.85million loan facility granted by a first generation commercial bank to her company, Acenk Maritime & Energy Services Limited for the purchase of two vessels.
In a swift reaction to the SHIPS & PORTS DAILY article yesterday, General Secretary of NISA, Mr. Tunji Brown disclosed that the association would investigate the matter and ask Labinjo to step down as President if need be.
"I am currently consulting with the executive members but we want to set up a committee quickly to look at the allegations and the position of the association is; if they are found to be true, we will ask the president to step down.
"That is the position but we want to set up a committee to look at them quickly. This will be done today (yesterday) because we are going to meet with him and if they are found to be true, we will ask him to step down. We can not allow that. So that is what we will be doing today on the matter," Brown said.
National Publicity Secretary of NISA, Engr. Emmanuel Ilori also confirmed that an emergency meeting was scheduled to hold yesterday to discuss the matter.
He said: "This executive team is composed of credible and seasoned operators in the banking, insurance and maritime sectors. We are mindful of what the industry expects from us. And we are also fully aware of the fact that this industry is far above any individual or group."
After the emergency meeting, Brown said a letter had been written and sent to Labinjo to explain his role in the ship purchase scnadal within 48 hours after which the association would determine his fate.
Meanwhile, Mrs. Adenike Jolapamo-Onifade has dragged Labinjo and his wife before the Economic and Financial Crimes Commission (EFCC).
Usually reliable sources informed SHIPS & PORTS DAILY that any moment from now, EFCC officials are expected to invite all concerned parties on the matter to their office in Ikoyi to explain their roles in the loan deal that has gone sour.
Jolapamo-Onifade had accused Capt. Niyi Labinjo and Mrs. Bola Labinjo of diverting over $1.1million out of a $6.5million deal to acquire an oil tanker and a fast speed intervention vessel (FSIV). The commercial bank gave a facility of USD5.85million while the beneficiary company was expected to make an equity contribution of 10 per cent or USD650,000.
Onifade-Jolapamo said that while the FSIV was purchased and delivered to Nigeria, the Labinjos failed to remit the remaining $2.3million for purchase of the oil tanker. She said a good part of the $2.3million had found its way from the shipbroker, Radunia International Corporation of Greece into various company accounts said to be owned by the Labinjos. She said after waiting for more than a month without any headway, she approached one of her friends at Fidelity Bank where the Labinjos maintain their company accounts. That was when the bubble burst as she discovered that rather than pay for her 5,000dwt oil tanker with the balance $2.3million, Radunia had been transferring the money into various accounts allegedly belonging to the Labinjos.
She claimed that Radunia severally transferred money to Transunion Credit Agency Nig. Ltd, Global Shipping Activities Bureau Limited and Soughtafter International Synergy Ltd – all companies Jolapamo-Onifade claimed are owned by Labinjo and his wife.
In all, it was discovered that a total of USD1,125,530 (N216million) of the first generation bank loan had been transferred by the supposed shipbroker, Radunia International Corporation to the companies. There is also no evidence that the USD650,000 released as equity contribution by General Ogomudia was transferred to any broker or shipowner abroad.
The telex transfer documents revealed that Radunia transferred USD220,000 to Transunion Credit Reporting Agency Nig. Ltd on 17/10/2014; USD20,000 on 6/11/2014; USD300,000 on 17/11/2014 and USD350,000 on 25/11/2014.
Radunia also transferred USD230,000 to Soughtafter International Synergy Ltd on 6/10/2014 and USD5,530 to Global Shipping Activities Bureau Limited on 6/11/2014.
"This is the money meant for the purchase of my oil tanker and the Labinjos connived with Radunia to divert the money for personal use. Now they are using the bank's money to live large," she claimed.
Jolapamo-Onifade said that she had been greatly distressed by the attitude of the Labinjos. She said all she wanted was immediate release of the money in the custody of the Labinjos to enable her fulfill her contractual obligations.
But when contacted on Friday last week, the NISA President, Capt. Niyi Labinjo denied having any business transaction with Jolapamo-Onifade.
"I am aware she had a business transaction with my wife. They had an MoU but along the line, there was a breakdown of the agreement. Trust was also lost. I am aware also that there are arrangements to return all the loan to her so that she can go her way since the working agreement is not working," he told SHIPS & PORTS DAILY.
When asked how soon he thinks Acenk Maritime & Energy Services Limited would get the money back, he said "very soon".
Copyright Ships & Ports Ltd. Permission to use quotations from this article is granted subject to appropriate credit given to www.shipsandports.com.ng as the source.