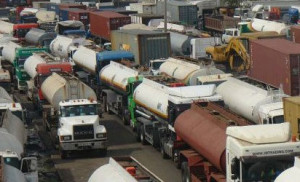 Independent Petroleum Marketers Association of Nigeria (IPMAN) has threatened two weeks warning strike over Depot owners exorbitant prices of fuel products and extortions by Department of Petroleum Resources' (DPR).
The Association also threatened to shut down all its members 2000 fuel stations across Lagos State and its environs.
IPMAN dropped this hint in a statement jointly signed by its chairman, Alhaji Ayo Alanamu, and General Secretary, Prince Kunle Oyenuga, and released to Newsmen in Lagos Monday.
According to IPMAN, its members were expected to buy a litre of fuel at the rate of N133.28 kobo from the private Depots owners and sell at N145 per litre to the public in accordance with the Federal Government's directives, which the depots owners ignored and selling to fuel station owners, at the rate of N141.00 per litre.
The association explained that the NNPC supplies the private Depots at controlled prices, yet the private depot owners refused or ignored the Federal Government's fixed price.
The statement explained that if a litre of fuel is bought from the depots, it would take N3.00 to transport it to their fuel station, apart from paying staff salaries, bank charges and interests and all other expenses.
"If an IPMAN member, buys a tanker of fuel at the rate of N4,752,000, he can only make a profit of N33,000 out of which bank rates and interests, and staff salaries will be paid plus other logistics.
"To worsen the situation, the DPR knows all these facts, yet, it turned its eyes away and begin to intimidate and extort money from IPMAN members for alleged under-measures which is not true,"
IPMAN explained the association explained that its members had been running their oil business at a loss and could no longer bear the losses, hence it decided to embark on two weeks warning strike, to alert the attention of the government and the public.
The association has therefore given the Federal Government, DPR, NNPC and PPRA two weeks, beginning from March 1- 15, 2017 to wade into the matter and do the needful, failure which will necessitate its members to withdraw their services and shut down all its 2000 fuel stations in Lagos and its environs.
IPMAN also used the opportunity to urge the NNPC to open all the NNPC satellite depots in Ejigbo, Mosimi, Ikorodu, Ibadan depot, Ore and Ilorin that make up System 2B to ease fuel suppliers to its members in these locations.