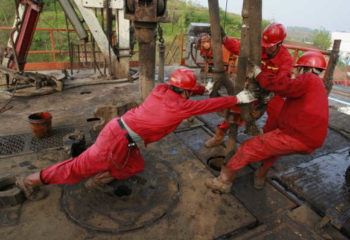 The Nigerian National Petroleum Corporation (NNPC), Monday, said it had secured a $416,000 per day reduction, about N126.88 million daily, in its deep offshore rig-rate.
According to a statement by the NNPC in Abuja, its Group Managing Director, Maikanti Baru, stated this at the 14th Annual Aret Adams Memorial Lecture.
Baru, was represented at the event by the Chief Operating Officer, Gas & Power,  Saidu Mohammed.
Baru also stated that the NNPC has successfully reduced its Unit Technical Cost, UTC, from $70 per barrel of crude oil obtainable in 2014, to about $27 per barrel as at the end of 2016.
Baru noted that the deep offshore rig-rate was renegotiated from a staggering $580,000 to $164,000 per day, saving the country a 71.7 per cent cost of executing a similar operation in the past.
He added that the NNPC had achieved a 35 per cent downward review of rig rates per day for both swamp and land operations in its portfolios.
A rig rate is a major cost element incurred by an Exploration and Production (E&P) company in the course of drilling for oil or gas in deep offshore, shallow offshore, swamp, land areas or basins.
Baru said these reductions were also effected in NNPC's Unit Technical Cost (UTC) over the period.
According to him, the various reductions serve as an incentive for investors to grow reserves, increase profitability and improve Return on Investment (ROI), adding that they also boost government revenue, thus improving government's commitment to developmental projects across the country.
He said, "I am proud to announce that our UTC has significantly dropped from above $70 per barrel in 2014, to about $27 per barrel, as at year end 2016. Indeed, NNPC is committed to further driving down the UTC."
Baru solicited the support of all industry stakeholders to achieve more of these lofty aspirations, as according to him, there was an urgent need to link the Industry with other sectors of the Nigerian economy.
He said although the increased oil production involved the cost factor and the commodity price, the NNPC had produced oil within the year with much efficiency.
He said: "Price may not be readily under our control, but we need to manage cost of production within the Industry. Within the period we took over the reign of leadership in the Corporation, we have been able to drive down cost to a very commendable level."
Baru explained that to achieve the 40 billion barrels of crude oil reserves and a production of four million barrels per day government's aspiration by 2020, the country needs an incremental of at least one billion barrels in reserves year-on-year till 2020, and at minimum, half a million barrels in incremental production capacity per day within the same timeframe.
"Considering our quest for revenue generation as a nation, it is a given that we need to increase our exploration efforts in order to sustain our reserve base and grow production," he noted.
He charged industry stakeholders to invest in exploration activities, especially now that crude oil price is low, so that when the tide turns, all that would need to be done would be to turn on the taps.
He noted that the NNPC would continue to make investments that are geared towards increasing the national hydrocarbon reserves and daily crude oil and gas production, adding that in this respect, the NNPC was committed to propelling power, industrial and agricultural sectors, through an adequate provision of gas to power and sustainable feedstock to fertilizer and petrochemical industries.
In his opening remarks, the Chairman of the occasion and former Minister of State for Petroleum,  Odein Ajumogobia, said there was no better time to discuss increased oil production than now.
Also speaking at the event, Chairman of the Aret Adams Foundation, Egbert Imomoh, said Nigeria should position itself for the future by finding more oil and producing more of the black gold.