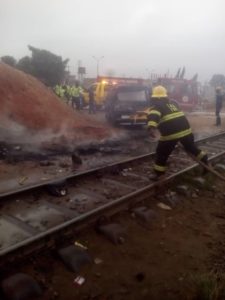 At least one hanger-on has been confirmed dead and two others injured, early Friday after a train averted a collision with an abandoned commercial bus at Pen Cinema, Agege, Lagos.
According to eyewitnesses, the three victims were sitting atop the train when it veered upon sighting the bus from afar.
They said the deceased fell on the rail line and was shredded by the moving train, while the other two fell by the bus, losing some body parts.
The train was said to have continued its journey, oblivious of the casualties.
Vexed by the incident, hoodlums, it was gathered, set the bus ablaze as onlookers rushed the injured to nearby Orile-Agege General Hospital.
Confirming the incident, the General Manager, Lagos State Emergency Management Agency (LASEMA), Adesina Tiamiyu, who was at the scene, said the wreckage of the bus had been removed.
He said, "It is true there was an accident there but untrue that many people died. The bus was empty and packed on the side.
"The three victims were hanging on top of the train. One of them died, while the other two sustained injuries.
Tiamiyu added that the victims had been taken to a nearby hospital, where he intended alongside other LASEMA officials to visit them, assess their condition and relocate them if necessary.
He said appeals had been made to residents on numerous occasions to stop hanging on moving objects.
"Sitting on top of a moving train is dangerous; it is deadly. People should value their lives," Tiamiyu said.