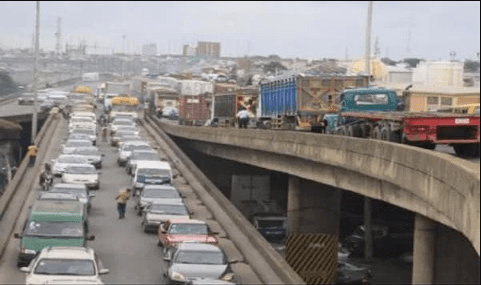 The Lagos State Government on Friday said the Marine Bridge in Apapa will be partially closed for three months to enable emergency repairs.
The closure will take effect from March 9 to June 21.
The State Commissioner for Transportation, Frederic Oladeinde, who made the announcement, said the emergency repairs will be carried out at the Apapa outward section of the bridge.
He said the repairs will involve removal and cleaning of the existing expansion joints, in order to avoid further damages.
He said, "Motorists inwards Apapa are advised to make use of Total underneath the bridge to connect Naval Dockyard to Danlami to Leventis corridor and/or to connect Marine Beach by Mobil through Federal Fire Service/Obanikoro to Naggaf/North Avenue to Wharf Road," the commissioner said in the statement.
"While motorists from Ajegunle inwards Iganmu/or Ijora should use Agbo Malu to Tego Barracks to Total underneath the bridge and ascend Marine Bridge to connect their desired destinations."
He noted that traffic personnel will be deployed to monitor and control traffic at alternative routes.