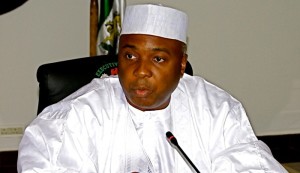 Nigerian lawmakers aim to pass the 2017 budget by the end of March, the president of the upper house of parliament said on Tuesday.
The budget lays out plans to pull Africa's largest economy out of its first recession for 25 years, largely prompted by low global prices for the oil it produces and by attacks on energy facilities in the OPEC member's Niger Delta oil hub last year.
President Muhammadu Buhari presented his record 7.298 trillion naira ($23.21 billion) budget to lawmakers in December.
"This month is our deadline to finish work on the budget and return it to the executive," Senate President Bukola Saraki said after a meeting with Buhari and the head of the lower house of parliament.
"We discussed issues of national interest, especially the budget," Saraki told reporters after the meeting, which came a day after Buhari resumed presidential duties following seven weeks of medical leave for an undisclosed ailment.
The budget must be agreed by lawmakers before the president can sign it into law.
The 2016 budget became law in May last year after being delayed by several weeks of wrangling between the government and the Senate.