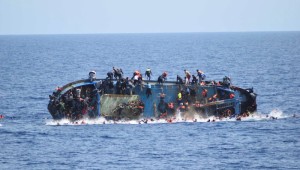 At least five migrants died and an unknown number were feared missing after their boat capsized off western Libya on Monday, Libyan coastguard officials and a charity said.
The rubber boat was carrying about 140 people when it overturned close to the border between Libyan and international waters, Libyan officials said. The Libyan coastguard rescued 45 survivors and brought them back to Tripoli harbour.
Seawatch, a German non-governmental organisation that has a rescue vessel in the Mediterranean, said at least five migrants had died including a toddler. Seawatch rescued 58 people, the group said in a statement.
The survivors brought to Tripoli were from West African countries including Nigeria and Senegal.
Libya is the main departure point for migrants trying to travel by boat to Europe. But numbers crossing to Italy have fallen sharply since July due to a drop in people smuggling and increased activity by Libya's European-backed coastguard.
Agency Report